Photographs of Maya ruins of Tikal showing how Hasselblad cameras and Zeiss lenses result in better pictures of the pyramids and temples of Tikal.
Tikal Temple I and the Great Plaza. Temple I is the mortuary monument erected to commemorate Ruler A, who is interred in Burial 116 beneath this pyramid. One of his sons was buried about 100 yards diagonally across this plaza, under Structure 5D-73, in the Tomb of the Jade Jaguar. The photographs on this page were taken with a Hasselblad ELX camera and Zeiss 50mm wide angle lens, using a polarizing filter. Photography was programmed for December, the height of the rainy season, in order to get the full green of the surrounding jungle. Too many photos of Maya ruins are taken in the dry season, when the grass is wilted and the trees have lost their leaves.

Want to see a colorful pre-Columbian image like this on paper? Scan the transparency and then use a Hewlett-Packard DesignJet wide format color inkjet printer. The quality approaches that of an enlargement produced on photo paper by professional lab. Scanned on a Scitex EverSmart Pro flatbed scanner (www.flatbed-scanner-review.org).

Telephoto view of Temple I taken from the Central Acropolis across the Great Plaza. The entire structure was originally plastered white. Then the roof comb was painted with reds, blues, and other colors to accent the different areas of sculptural decoration. These roof combs were like giant billboards, with immense portrayals of the enthroned king, larger than life size. The stone used to construct these pyramids is local limestone, obtained from nearby quarries. The ancient Maya had no stone tools but limestone is soft enough that the Maya could utilize chert tools to work the stone into neat rectangular building blocks.

Closeup view of Structure 5D-34 on the corner of the North Acropolis, taken with a Zeiss telephoto lens from the Central Acropolis.

These Maya temples are the burial monuments erected over the royal tombs.

If you would like a colorful exhibit of these dramatic images of Mayan archaeology in your home town, just send us an e-mail, fax, or telephone.

We have plenty of photos available at reasonable cost for your local school, library, lobby of your company, or your own living room!

all photographs by Dr. Nicholas Hellmuth

This shows the special camera equipment used to take the panorama views of Tikal. This system is fully portable and completely computerized. It draws power from a sophisticated battery system. The lens is a normal Zeiss (borrowed from my Hasselblad system). This remarkable camera can also be mounted on wheels, placed on rails, to do a 15-foot long continuous photograph (on 70mm film) of any architectural facade.

This same camera can also do rollout photographs of Maya vases. In turntable mode the camera is stationary and the cylindrical vase is on the turntable.

F.L.A.A.R. also has another 70 mm rollout camera made in Belgium which does beautiful rollouts of polychrome Maya vases.
all photographs by Dr. Nicholas Hellmuth copyright FLAAR 1997, 1999, 2000
If you would like to get photography tips from the pros, join us on a photography expedition to Guatemala or the Mayan ruins of Copan, Honduras. Whether you have a Nikon, Leica, Minolta, Rolleiflex, Hasselblad--or even a point-and-shoot-camera, we can help you improve your technique. contact us via E-mail at [email protected]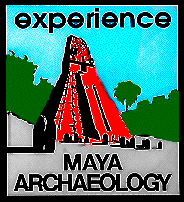 complete directory of Mayan vase rollout photographs; rollout photos by Web site
Mesoamerican art history and archaeology research is easier and more productive if done in digital format
home, wide-format-printers.org
index, wide format printers
home, laser-printer-reviews.org
index, laser-printer-reviews
home, FineArtGicleePrinters.org
index, FineArtGicleePrinters
home, digital-photography.org
index, digital-photography
home, large-format-printers.org
index, large-format-printers
home, flatbed-scanner-review.org
index, flatbed-scanner-review
Home, www.maya-art-books.org index || Contact
updated June 18, 1998; edited March 25, 2000