Art and Architecture of the Maya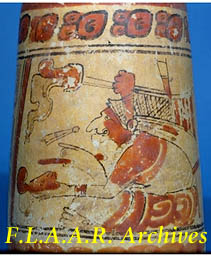 Copan, photographed with permission of IHAH. This image cannot be further reproduced without permission of IHAH.
This is an example of the 40,000 color images which form the FLAAR Photo Archive. Since each object is also photographed separately in black-and-white (mainly in Hasselblad size and quality) there are 40,000 negatives in addition to the same quantity of color transparencies.
Of the color, 2,700 are in 4x5 inch size. About 5,000 are in 2 1/4 inch Hasselblad format. The rest are 35mm (Leica quality). Our rollout images are in 70mm perforated film. We roll each image out in color (transparency) and then separately in black-and-white film.
Since a computer monitor allows only 72 dpi, it is not realistic to attempt to show more than samples of these images. If you would like to see our images in full color, full quality, look at any of the FLAAR, publications or Japanese publications which use our photos. These titles can be ordered from our Art & Archaeology Book Service.
12,000 images from the FLAAR Photo Archive are on CD-ROM.
E-mail the FLAAR Photo Archive: [email protected]
New page format posted November 16, 2009
updated July 31, 1998 by Andrea David, edited March 3, 1999