TOMB of the JADE JAGUAR
TIKAL, GUATEMALA (Burial 196)
An informative slide lecture on Maya art, architecture, and archaeology is available from the FLAAR research institute of pre-Columbian archaeology. Nicholas M. Hellmuth had beginner's luck to discover one of the most richly stocked royal burials of the entire ancient Maya realm. He accomplished this while still a student at Harvard, while working on the University of Pennsylvania archaeological project at Tikal, Guatemala. It is rare that an archaeologist has an opportunity to find the burial chamber of one of the great kings of an ancient civilization.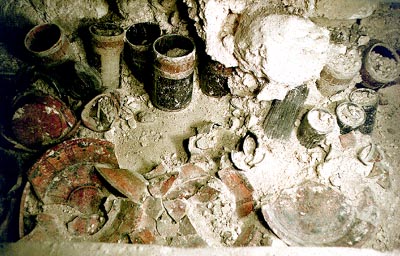 Image of Tomb of the Jade Jaguar, Burial 196, Structure 5D-73, Tikal
Dr. Hellmuth has been invited to give this slide lecture around the world, in German, Spanish, and English, in museums throughout Canada, North America, and Central America, at the universities of Europe and in Tokyo, Japan. In July 2014 he presented an update at the Museo Popol Vuh, Universidad Francisco Marroquin, Guatemala City, Central America.
This fascinating day-by-day archaeological adventure is also available for your hometown.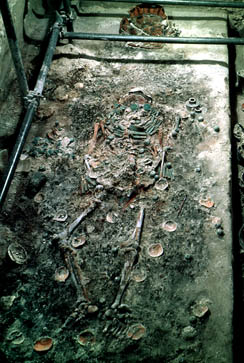 Tomb of the Jade Jaguar, Tikal
The front cover of Robert Sharer's revision of Sylvanus Morley's textbook "The Ancient Maya" features a treasure from this tomb; the December 1975 issue of National Geographic has pictured the same jade mosaic masterpiece. Yet seldom do people have an opportunity to see inside such a burial or to ask questions of the actual archaeologist who was in charge of the team and who personally excavated the entire grave lot.
This slide show is available in English, German, or Spanish.
Complete photographic exhibits are also available. Yes, we still have the original Kodachrome color transparencies from 1965. Nicholas had a Leica camera in those days. B&W photos were taken with a Rolliflex on medium-format sized film.
The Kodachrome slides from the Leica have just enough color left to scan them to prepare enlargements of each aspect of the tomb. These same scans also allow us to prepare a PowerPoint for a digital projector.


Iron pyrite: but the Classic Maya had no metal

The Tomb of the Jade Jaguar at Tikal (Burial 196, Structure 5D-73) included the largest pyrite mosaic mirror yet found in all of Mesoamerica. Two other mirrors of iron pyrite were also in the burial. Iron pyrite is used as a mirror on Teotihuacan style incensarios and in dental inlays. However the dental inlays in the Burial 196 were jade.

Iron pyrite, FeS2, is sometimes called "fools gold." Just recently (2014) a local person in Alta Verapaz showed us a stone from a mine which was totally destroyed for the construction of concrete block houses. However eventually we hope to find more samples to document that this area does have pyrite deposits. Archaegeology is not well advanced for the Maya areas in general especially not in Guatemala

Hematite, Fe2O3, iron oxide, was also found in Burial 196. Specular hematite is common in elite Maya burials.
Although these two forms of "iron" were found in the burial, the Classic Maya of Tikal did no metal working (at least none that I am yet aware of). Gold was mainly known from Post Classic Mexico, lower Central America, and South America.
Treasure fit for a king
Burial 196 included the greatest number of pottery vessels of any Late Classic Maya burial known in the lowlands, and more jade jewelry than any tomb other than that of Pacal's of Palenque or in Temple I of Tikal.
These remarkable PowerPoint presentation brings the treasures of the Tomb of the Jade Jaguar to your auditorium in full color (the actual artifacts are still safely in Guatemala, many in the National Museum, other items in the site museum at Tikal).
The tomb contained painted wooden bowls, a lidded wooden box of hematite paint, a baroque pearl necklace, two stingray spine bloodletting perforators, an "alabaster" bowl, a wooden vase sheathed in jade mosaic, a complete "diviner's kit" of shaman's utensils, plus at least two complete feline hides--sections of this leather were still stiff.
It took a month to excavate a tunnel deep into the pyramid. During this time Hellmuth took slides day by day as his team dug deep within the pyramid. Then ten days were taken to analyze how best to tackle recording the overfilled tomb chamber and its royal mortuary offerings. Every inch was photographed.
Subsequently, the young archaeologist devoted five weeks to study the offerings in situ within the burial crypt. Hellmuth's resulting two volume, 400 page undergraduate thesis on this burial was awarded a Summa Cum Laude at Harvard.

This ceramic vase probably held cacao drink
Discovered by Nicholas Hellmuth, Burial 196.
Who warranted such a Mayan treasure?
Epigraphers propose this was the tomb of Ruler B, son of Ruler A. Hieroglyphs on a vase in Burial 196 included the title of Batab and the Sky Family royal name of this Tikal dynasty. Nicholas is not yet convinced the occupant was Ruler B (if the occupant was Ruler B, this would be one of the great finds of Maya archaeology). Nicholas explains in his lecture the evidence that suggests the occupant of the burial was another member of the royal family of Late Classic Tikal.
This and other lectures by Professor Hellmuth are available in English, German, or Spanish, anywhere in the world, any time of the year.Dr. Hellmuth can also present "Living Room Lectures," which are private slide shows in your home, at your business, or in your club, just for you, your family, and your personal guests. Often the lecturer stays two or three days to lecture at all the pertinent locations (the more lectures per-city, the less the cost per slide show--with over 40,000 slides to chose from, this speaker has enough different lecture topics).
Other topics available include "Olmec Art & Archaeology," "Pre-Columbian Jade," "What were the Causes for the Collapse of Classic Maya Civilization," as well as Maya sports:
"The Maya rubber ballgame did not always involve killing a player."
Professor Hellmuth can give a completely different and dynamic presentation for each of these themes.
Photo exhibits on Mayan archaeology are also available
If your museum, organization, library, corporation, or group wishes a photographic exhibit on the excavation and discovery of the Tomb of the Jade Jaguar, we have scanned the Kodachrome slides from the original photography. Even back in 1965 Nicholas was already using a Leica camera and Leitz lenses to do his photography.
Dr Hellmuth is also available to lecture and guide travel programs to the Maya ruins of Mexico, Belize, Honduras, Guatemala, and El Salvador. In addition to archaeology, Dr Nicholas specializes in the plants, flowers, foods of the Mayan people. He also has lectures available on fauna related to Mayan archaeology
Maya ceramics: plates, vases, bowls
Here in the vertical column to the right are the front covers of the 193 pages of text and about 200 photos and drawings of the Tomb of the Jade Jaguar and the architecture of the pyramid built over the royal crypt.
It is in three volumes because the total size is about 400 pages.
If you prefer the entire 400 pages in a single PDF, the total file size is 16.7 MB.
For more information on Maya ceramics (funerary vases such as this) go to any FLAAR web site and look for the site index; in the site index look under "Maya ceramic art" or "Maya vase rollouts."
Most recently updated July 29, 2014
New page format posted July 9, 2009
updated March 3, 1999