FLAAR Photo Archive of Maya Art, Architecture, and Archaeology
Several decades ago, we launched a program to create a photographic reference archive to cover all Maya art and architecture. Today, almost thirty years and several million dollars later, F.L.A.A.R. has one of the top professional photographic archives on Mesoamerican archaeology. Photos from this archive are used in publications by Thames & Hudson, university presses, books published in Japan, Austria, and Mexico, and in exhibits.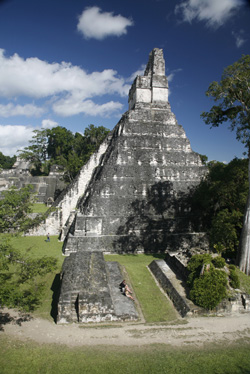 Tikal, Temple I
Although this archive is best known for its depth of coverage of Maya polychrome pottery (plates, bowls, vases, incense burners and associated ceramic art), in actuality this mammoth photographic resource covers architecture and sculpture as well.
For example, our corpus on the architecture of the Puuc, Chenes, and Rio Bec Maya styles of Campeche and Yucatan exceeds the photographs amassed over fifty years by the Carnegie Institution of Washington (a useful archive housed in the Peabody Museum, Harvard University).
But today lenses and cameras exist which were not available in those earlier years, and roads make it possible to get this class of equipment deep into remote corners of Central America. We have spent eight years photographing Maya temples and palaces in Yucatan and Campeche. These records are invaluable because several of the key palaces and temples have collapsed in recent years. For example, the FLAAR photos of the inside of Tzikin Tzakan (Peten) are among the few professional photographs known to exist of this unusual building. The entire structure collapsed into a total ruin about 1980. Tabasqueno is reported to have collapsed recently; this means that the last professional records of this structure are from F.L.A.A.R. in the previous year. Our archive also have photographic coverage of the main Maya ruins of Palenque, Copan, Chichen Itza, Uxmal, Tikal, etc.
Suggestions on how to store your slides
How to store 35mm color slides
How to store 6x6 cm slides
FLAAR has done photography for both the independent projects at Calakmul, for Folan and for Carrasco. In this manner every donation of equipment to FLAAR from a corporation or private benefactor is put to double duty in the Maya countries. We seek to share what others give to us.
Donations from a benefactor in Canada (1994) enabled us to upgrade to two computers to initiate a program of digital imaging at FLAAR.
In 1995 another considerate individual donated $100,000 to FLAAR because he felt an archive as large as that of FLAAR should be digitized and cataloged. His magnanimous gift has made it possible for us to set up a Macintosh digital workstation as well as a Dell Windows NT workstation.
We are currently seeking donations to facilitate purchase of a dedicated 4x5 slide scanner and we could really use a dye sublimation printer.
The National Museum of Ethnology, Osaka, Japan, has aided us in storing a portion of the overall archive. In return we have provided a portion of the Photo Archive to their museum for internal use of their research scholars (especially for the study of the Primary Standard Sequence on Maya vases, plates, and bowls--a strong point of our archive). While many institutions have wished to obtain portions of the FLAAR Photo Archive, this national museum of Japan was the first which was clever enough to actually succeed (they have 25% of the archive, there is still plenty available for other institutions). Actually, a complete set of the archive (all originals, not just duplicates) is stored in reserve for an institution in Europe, since we wish to have one main set in Europe, one in Asia, one in the USA, and one in Latin America (in the Maya countries).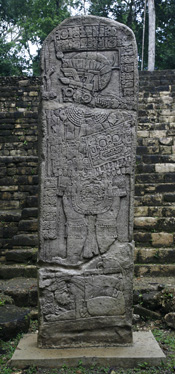 Aguateca stela
To fulfill our goal to facilitate scholarly research by forming a central retrieval source for study images of Maya art, we have photographed in England, Japan, Australia, Germany, Switzerland, Belgium, France, Holland, Italy, Canada, across the USA, and throughout Latin America.
The photographs resulting from this worldwide effort have helped students with their M.A. theses and Ph.D. dissertations, and have enhanced countless books and magazine articles. The advantage of FLAAR photographs for textbook authors and publishers is that we offer unique angles and images that differ from the common pictures which have already been repetitively published. Authors who use FLAAR photos are ensured of images that have not been worn out by already being in all the other books.
Our most valuable photographic holdings are aerial views of Tikal , Seibal, and Uaxactun. Shot from a helicopter, these photographs, in Leica and in Hasselblad quality, compare favorably to anything in National Geographic.
A new camera system promises to revolutionize archaeological recording out in the field. This system is completely computer-controlled and takes seamless 360-degree panorama vistas with film length up to 15 feet! This camera will allow us to do virtual reality views of Maya sites for upgrades of this Web site.
Another aspect of this same clever Swiss system takes distortion-free photographs of friezes, facades, or any long architectural feature. The camera propels itself along its own miniature "train" track taking a continuous strip photo (up to 4 meters in film length).
For more traditional photographs we use Leica and Nikon cameras for 35mm, since this size is what everyone needs for slide lectures.
For publications we use Hasselblad format, from wide angle to telephoto. Beginning in 1993 we moved up to 4x5 format, and in 1994 we began to use 8x10 format (Linhof). To our knowledge we are the only source of 8x10 format field photographs of the Maya area. Using a 4-wheel drive truck we can get this camera to any site or to any museum in Mesoamerica.
Because each of these cameras was possible as a result of donations, we in turn donate our photographic services to each of the four regional federal Maya archaeological insitutes: INAH, IDAEH, IHAH, and Belize. FLAAR donated all the photography for the posters and entire museum mini-catalog for the archaeology museum in Merida. We have donated our photography services to IHAH as well as to individual projects working at Copan. Two of the posters hanging on the wall above the door inside the visitor's center at Copan are from the FLAAR Photo Archive. Our most recent photography at Copan Ruinas, Honduras, was in December 2008.
As we expand this Web Site you will eventually get samples of the strong points of our Photo Archive, but here are examples of the archive's coverage:

• Females in Maya art
• Dance as pictured in ancient Maya art.
• Clothing and costumes as seen in Maya art.
• Animals, reptiles, snakes, birds, fish as pictured in Maya art.
• Deities and supernatural Personages
• Hunting (deer hunting) as pictured in Maya art.
• Pyramids,Temples, and Palaces at Maya sites.
• Hieroglyphic inscriptions, on pottery and on sculpture.
• Stelae, lintels, and associated sculptured on stone.
• Art in jade , obsidian, flint (chert), bone, and seashell.
• Maya jade jewelry (earrings, bracelets, pectorals)
• Teotihuacan influence on Maya art.
• Olmec art: jade, ceramic, and sculptured stone.
• Tropical flora especially cacao (chocolate)
• ballcourt architecture and sculptures that show the ball game
We regret that individual slides or prints are not available, as FLAAR is not a commercial vendor. Minimum order is illustrations for an entire book or major portion for a magazine of national or international stature. We have no catalog to send out.
Internal catalogs exist (about 3,000 pages so far). As they are eventually finished copies are provided to the institutions that have joint cooperative programs with us such as Japan's National Museum of Ethnology. About 15 volumes are available through our Book Service.
We also do photography on contract, especially rollouts and large format stills (fantastic for museum posters and book covers). How rollout photographs are created.
We can be reached by e-mail: [email protected]
New page format posted July 8, 2009