Highlights of the Maya Symposium
Highlights of the Maya Symposium which covered a wide variety of popular topics relative to pre-Columbian Mesoamerica. Archaeologists and epigraphers from a variety of universities and museums were featured speakers.
Aside from our distinguished speakers, Theater 360 shows, spectacular slide and planetarium shows, artistic displays by T.W. Rutledge as well a photographic exhibits by Jack Sulak and Eldon Leiter were presented. These displays covered artistic renditions of Maya rituals, Maya architecture, Hieroglyphs, flora and fauna. David Morgan displayed his architectural drawings of the ballcourts of Tula, Tikal, Yaxchilan, Uxmal, Copan, Palenque, Chinkultik, Seibal and other Maya sites. Formerly presented by Brevard Community College (BCC) and the Foundation for Latin American Anthropological Research (F.L.A.A.R.)
We regret that institutional politics has derailed this program in 1998, but we are proud of this program and therefore provide this information for historical detail.
All events were conveniently located on the campus of Brevard Community College, Cocoa, Florida, an easy drive directly from the ORLANDO International Airport All of the Maya Symposium Events are open to the Public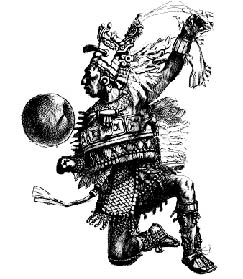 Drawing of Maya ballplayer by T. W. Rutledge
Our organization worked diligently to make this year's symposium the best ever. Thanks to many corporate donations of state of the art equipment, we are now empowered to bring the history of the Maya to the public as we never have before.
Based on our new digital technology and distinguished visiting lecturers, this year's symposium was visual, more informative, and more hands-on than ever before. Experience the breakthroughs on this Ancient Civilization.
Thursday, February 5, 1998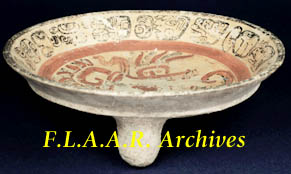 Museo Popol Vuh, Universidad Francisco Marroquin
Lectures on Mayan Epigraphy, Related Iconography, and Archaeology, Part I
Beginning at 10 a.m., concluding at 6 p.m.
Dr. Barbara MacLeod and Dr. Nicholas Hellmuth will teach you how to read the Primary Standard Sequence hieroglyphs on Maya vases, plates, and bowls, AD 400-900. Dr Joseph Ball will be bringing exotic PSSequences which have not yet been published.
Dr MacLeod reports that she and Dr David Stuart (Harvard University) had a productive discussion of new decipherment in the PSS. Dr MacLeod will be bring this information to the Florida conference.
Friday, February 6, 1998
Museo Popol Vuh, Universidad Francisco Marroquin
Mayan Hieroglyphic Decipherment, Part II
Beginning at 9:45 a.m., concluding at 5:30 p.m.
This program is suitable for all ages and backgrounds. We provide gentle instruction, starting from the beginning, to help you to learn to read, and enjoy, Mayan glyphs from the fabled photo archive of Dr Nicholas Hellmuth, FLAAR at BCC.
BCC portion begins at 6:30 p.m. An Evening of Public Archaeology Lectures ending at 8:30 p.m.
F.L.A.A.R. begins a new program of instruction at 2:00 p.m. See Maya Polychrome Pottery Lecture Series for full details. The F.L.A.A.R. organization will begin with Maya Polychrome Vases, Bowls, Plates and Other Painted Pottery, Part I. Dr Nicholas Hellmuth is the main speaker. Other field archaeologists will be present to provide information from their current archaeological projects. This second program concludes at 5:00 p.m
Early Classic Tiqsuisate incense burner from the Museo Popol Vuh, Universidad Francisco Marroquin
Series of six slide shows on the style and aesthetics of Polychrome Maya Pottery presented throughout the day, featuring treasures from the Museo Nacional de Archaeology in Guatemala City, and Museo Popol Vuh located at the Universidad Franscisco Marroquin. These two days are ideal for museum docent training. Dr Joseph Ball will contribute information on Maya ceramics from Belize, Guatemala, and Mexico.
Dr Guillermo Mata will discuss the eclectic pottery styles of the Motagua River valley, where the local potters emulated Highland Chama pottery and Tikal styles from the Peten as well.
Saturday, February 7, 1998
Maya Art & Archaeology
Beginning at 9:00 a.m., concluding at approximately 5:30 p.m.
Join Dr. Rex Walters as he explains his exciting work at the sites of Tikal, Belize, and the Jade Mines. Meet INAH archaeologist Sylviane Boucher from Mexico, as she interprets the pottery of the Northern Maya and Calakmul areas. Dr. Guillermo Mata comes from Guatemala for the third time, back by popular demand. He is knowledgeable in the archaeology of Lake Amatitlan and the Motagua Valley. Dr John Carlson will discuss caves and their role in Maya civilization.
Sunday, February 8, 1998
Guest Speaker Lectures
Beginning at 9:45 a.m., concluding at approximately 5:00 p.m. This day is divided into two separate lecture and program series. Dr. Don Forsyth (has worked at El Mirador and is now at Piedras Negras), Dr. Joseph Ball has extensive experience in Maya archaeology of Belize and Mexico, Dr. Andrea Stone is author of a comprehensive book on Maya paintings in caves. They and other Archaeologists and art historians will present lectures from 9:45 a.m. to 1:00 p.m.
Photographs at the right are digital images from the Museo Popol Vuh, Universidad Francisco Marroquin, Guatemala City.
Monday, February 9, 1998
Maya Polychrome Pottery, Part II
Beginning at 9:00 a.m., concluding at approximately 5:00 p.m.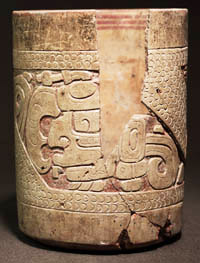 This class of Motagua pottery is adorned with images borrowed from Classic Peten iconography, yet the manner of carving might be compared and contrasted better with vases from Yucatan.
Tuesday, February 10, 1998
Iconography and Maya Religion as Seen on Maya Vases, Part III
Beginning at 9:00 a.m., concluding at approximately 5:00 p.m.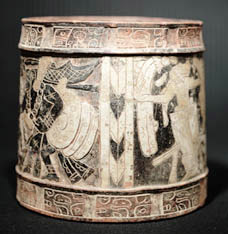 Chipoc Style vase, with God N and the Maize God, the favored theme for vases of this unusual Highland style.
Lectures will be presented throughout the day on the Gods, Religion, Cults, Ceremonies and Costumes of the Classic Maya Period of Mexico, Guatemala, Belize, and Honduras. This program is ideal for everyone interested in pre-Columbian art, especially as represented on polychrome vases.
Wednesday, February 11, 1998
Ballgame Part I Guatemala & Mexico Sculpture Slide Lectures
Beginning at 9:00 a.m., concluding at approximately 5:00 p.m.
Slide lectures exploring the Iconography of the Sacred Rituals of the Ballgames played at El Tajin, Cotzmalhuapa, Tikal, Seibal, Labna, Calakmul, Yaxchilan, Copan and Uxmal.
Thursday, Feb 12, 1998
Ballgame Part II Maya Art History & Archaeology
Beginning at 9:00 a.m., concluding at approximately 5:00 p.m.
F.LA.A.R Photo Archive presents the Iconography of Hunting and Sports of the Maya Art as revealed on Polychrome Pottery and Sculpture. Dr. Hellmuth has worked out why some players are dressed as deer, and why other ballplayers are dressed as hunters. It turns out that many games were a reenactment of the hunt...one team was hunted...in the ballcourt. Now you can figure out why other players are dressed as warriors...the ballgame can also be a battle, pitting the hometown king against captives from a nearby village. Is it possible that games were like gladitorial sports?
Friday, February 13, 1998
Computer Digital ImagingWorkshops
Beginning at 9:45 a.m., concluding at approximately 4:00 p.m.
Workshops will be held in the graphics lab at the BCC Cocoa campus. Instruction will include Adobe Photoshop, and an introduction to Adobe PageMaker. Scanning procedures will be demonstrated and discussed. Computers will be available for participants.
Saturday, February 14, 1998
Digital Imaging and Virtual Reality Workshops
Beginning at 9:45 a.m., concluding at approximately 4:00 p.m.
Programs continue for the more adventuresome. Programs available are as follows: PageMill (Web site development for your Home Page), Xres, Live Picture, Micrographx Picture Publisher, QTVR and more. Most popular portion of these sessions are the product reviews, of what products to avoid, and which are essential to obtain.
Sunday, February 15, 1998
New for '98
Digital Rollout Photography, instructor is Professor Nicholas Hellmuth, BCC
Beginning at 9:45 a.m., concluding at 1:00 p.m.
Digital Photography, Rollout Photography, and seamless Panorama Photography for Virtual Reality will all be discussed. We have a rollout camera available for you to use in person. No experience is required whatsoever. Our staff will show you how to use everything. You can even take rollout photographs yourself, using all the equipment.
If you are interested in how digital imaging, digital photography, and short-run digital printing can help in your research or complete details on recommended hardware and software can be found at: www.digital-photography.org and www.cameras-scanners-flaar.org
New page format posted July 24, 2009
Most recently updated August 3, 2009
New page format posted July 24, 2009
revised March 19, 1999; links added August 1, 1999 and March 5, 2003