What better place to offer instruction in how to handle digital photographs than at the Digital Imaging Technology Center, FLAAR. Covers not only digital cameras, digital photography but also laser printers, wide format printers, inkjet printers, and dye sub printers.
February 13, 14, and 15, 1998
DIGITAL IMAGING WORKSHOP AND DISCUSSION SERIES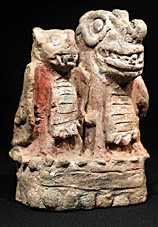 Museo Popol Vuh, Universidad Francisco Marroquin
Friday, February 13, 1998
Computer Image Manipulation Workshops
Beginning at 9:45 a.m., concluding at approximately 4:00 p.m.
Workshops will be held in the graphics lab at the BCC Cocoa campus. Instruction will include Adobe Photoshop, and an introduction to Adobe PageMaker. Scanning procedures will be demonstrated and discussed. Computers will be available for participants.
Saturday, February 14, 1998
Digital Imaging and Virtual Reality Workshops
Beginning at 9:45 a.m., concluding at approximately 4:00 p.m.
Programs continue for the more adventuresome. Programs available are as follows: PageMill (Web site development), Xres, Live Picture, Micrographx Picture Publisher, QTVR and more. (Today in 2009 we either smile or laugh at these early primitive software tools, but these are what were available for beginners in 1998; today FLAAR has a team of five computer coders/web designers/web masters and they use software so complex that I would not even be able to list it).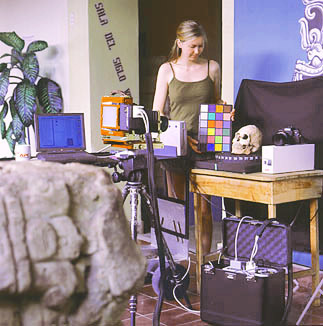 This is Andrea David assisting FLAAR at Copan, Honduras. She worked with FLAAR for many years. She otherwise still lives in Germany and named her daughter Maya in memory of all the time she was in Guatemala and Mexico and Honduras. Andrea was the manager of the FLAAR portion of the BCC symposium its final year in Florida. Subsequently there was a meltdown in the college administration when a new president effectively decided to phase out every program that was successful under the previous administration.
Sunday, February 15, 1998
New for '98
Digital Imagery at F.L.A.A.R.
Beginning at 9:45 a.m., concluding at approximately 4:00 p.m.
Digital Photography, Rollout Photography, and Panorama Photography for Virtual Reality will all be discussed.
Most recently updated August 3, 2009
New page format posted July 30, 2009
page updated March 14, 1999
additional links added July 7, 1999
more links added Aug. 1, 1999