Detailed description of an informative international Maya symposium of art and archaeology held annually for six years. Focus was on the ceramic sequence, regional styles of Maya pottery, Mayan epigraphy (Primary Standard Sequence), and related Mayan art and archeology.
We regret that the local college decided to stop funding this international class of multi-ethnic program, but we are all proud of the six years of work which went into these successful conferences, and, for the historical record, we leave this list of lectures on the Internet.
MAYA POLYCHROME VASES LECTURE SERIES
(Maya Ceramic Conference and Exhibits)
February 8, February 9 and February 10, 1998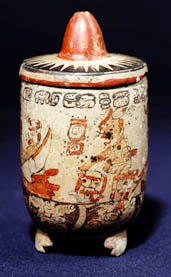 Late Classic polychrome Maya vase with lid and supports.
F.L.A.A.R. begins a new program of instruction at 2:00 p.m. This series of lectures is dedicated to connoisseurship, aesthetics, iconography, and epigraphy. Connoisseurship and aesthetics are those aspects of art history which have been neglected by anthropology. Maya potters, scribes, and associated artists of ancient Guatemala produced beautiful works of art which can be appreciated for their style, proportions, and craftsmanship.
Although art books tend to stress "polychrome" pottery, which are pots painted with three or more colors, of course we include incised, gouged, mold-made, and all other kinds of pots, including those never having been painted with any colors.
In the last decades of Classic Maya civilization, the practice of painting ceramics fell into disuse. The ceramics of this late period, known to archaeologists as Tepeu 3, are fascinating records of the final years of the waning Maya culture. Indeed, many of these pots picture the barbarians who were to some degree responsible for the collapse of Maya civilization.
So, in addition to the study of aesthetics, style, and iconography, we also look at how these vases record history. The person who crafted the pots in many cases was an eyewitness to the end of the Classical manner of Maya life. When you attend the informative sessions, you can learn from this testimony stamped in clay.
The F.L.A.A.R. organization lecture series will begin with:
Sunday, February 8, 1998
Maya Polychrome Vases, Bowls, Plates and Other Painted Pottery, Part I.
Beginning at 2:00 p.m., concluding at approximately 5:00 p.m.
Dr Nicholas Hellmuth is the main speaker. One thousand years of Maya pottery will be covered, from about 1 A.D. (Preclassic) to 1000 A.D. (Postclassic). The focus of this program is to assist you on how to date Maya pottery by eye, using shape, size, style, color and decoration. No previous experience is required. The lecturer and archaeologist, Professor Nicholas Hellmuth, will provide a complete general introduction. Other field archaeologists will be present to provide information from their current archaeological projects. This program concludes at 5:00 p.m.
Monday, February 9, 1998
Maya Polychrome Pottery, Part II - Style and Aesthetics, Dating and Provenance
Beginning at 9:00 a.m., concluding at approximately 5:00 p.m.
Series of six slide shows on the style and aesthetics of Polychrome Maya Pottery The focus of this program is to assist presented throughout the day, featuring treasures from the Museo Nacional de Arqueologia in Guatemala City, and Museo Popol Vuh located at the Universidad Franscisco Marroquin.
These two days are ideal for museum docent training. Dr Joseph Ball will contribute information on Maya ceramics from Belize, Guatemala, and Mexico. Dr Guillermo Mata will discuss the eclectic pottery styles of the Motagua River valley, where the local potters emulated Highland Chama pottery and Tikal styles from the Peten as well.
Tuesday, February 10, 1998
Iconography and Maya Religion as Seen on Maya Vases, Part III
Beginning at 9:00 a.m., concluding at approximately 5:00 p.m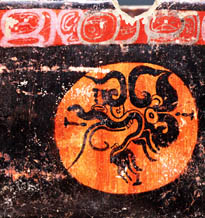 Museo Popol Vuh, UFM.
Lectures will be presented throughout the day on the Gods, Religion, Cults, Ceremonies and Costumes of the Classic Maya Period of Mexico, Guatemala, Belize, and Honduras. This program is ideal for everyone interested in art.
All of the Maya Symposium Events are open to the Public
If you are interested in pre-Hispanic cultures, languages, travel, publications, or anything related to Latin American forums, send us an e-mail (sorry, our phone system is rather busy these days; e-mail is easier on our staff).
Most recently updated August 3, 2009
New page format posted July 24, 2009
page updated March 16, 1999