Information on the costs of the special programs of the Maya Archaeology Symposium, Cocoa, Florida. Maya ballgame, Mayan epigraphy, archaeology, art history.
Maya Archaeology Symposium 1998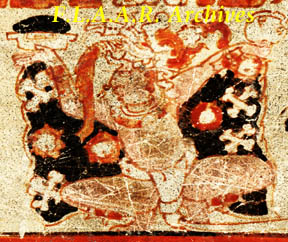 Museo Popol Vuh, Universidad Francisco Marroquin
SYMPOSIUM COSTS
Feb. 5 and Feb. 6, Mayan Hieroglyphs Part I and Part II together, $150 contribution to help cover the cost of the extensive photography of Mayan inscriptions on polychrome vases and plates. If you cannot come as early as Feb. 5th, cost for Feb. 6th is $100.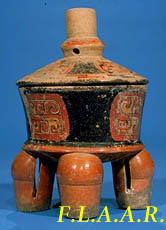 Museo Popol Vuh, Universidad Francisco Marroquin
Please keep in mind that we spent over $52,000 on rollout camera systems for taking photographs of Primary Standard Sequence hieroglyphs.
If workbooks are available, it will be in the form of large size enlargements (11x17 inch) of digital rollouts of hieroglyphic texts on Maya vases, bowls, and plates. (Yes, the FLAAR digital rollout camera can even rollout the insides of plates). Each set of rollouts, mostly material which has never been published at all, or not elsewhere available in rollout form, as ask $100 contribution to assist in covering the numbing costs we incurred photographing rare Mayan hieroglyphic inscriptions during the last six months in Guatemala.
Checks for Feb. 5-6, Sunday Feb. 7 through the end, help cover the expenses of preparing the FLAAR portion of the symposium.
Learn about Maya archaeology from Nicholas Hellmuth. Small sessions so you get virtually private instruction.
Sunday afternoon, iconography on Maya polychrome pottery, $60.
Monday, all day, iconography, style, aesthetics, and connoisseurship, $60
Tuesday, all day, how to learn to recognize and understand the various deities of the Classic Maya pantheon, $60.
If you wish to attend the entire Maya ceramic workshop sessions, Sunday afternoon through Tuesday afternoon, price is $150 for all three days.
If workbooks of a wide sample of recently photographed (and mostly totally unpublished) vases are available, it will be in the form of large-format rollouts (11x17 inch). $100 donation is requested to cover the costs of doing rollout photography.
Wednesday and Thursday: Ballgame Part I and Part II: $120 with workbooks, $100 with no workbooks, $60 per day (no workbooks) if you cannot stay for both days.
Friday and Saturday: Adobe Photoshop, digital imaging, price will be based on number of participants, probably about $150 for both days together.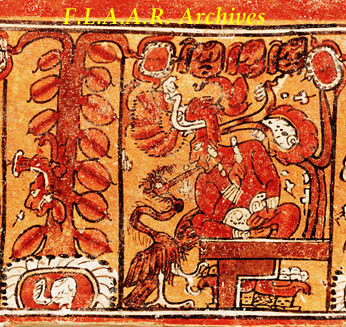 The tree at the left is an example of a feature known from the Popol Vuh being found in Classic Maya art.
Sunday, rollout photography, hands on (if you wish, but there is no requirement to take rollout pictures yourself). We ask a $300 donation to help cover the staggering costs of acquiring this impressive digital rollout system. Lighting and photography equipment will be on display.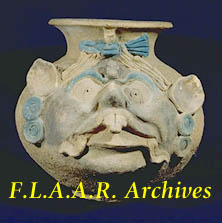 Museo Popol Vuh, UFM.
In order to help cover the costs of the months and months of research in Guatemala which went in to doing the special photography which makes the FLAAR+BCC symposium such an educational experience, special categories of tax deductible patronship are available.
PATRON: $3000 for corporate patron, $2000 for individual patron.
You receive all the special features available to all other levels plus VIP access to anything and everything you need during the symposium. For the symposium Patron we offer access to the digital rollout photography system on any evening that is mutually available (in other words, you do not need to stay to the last day of the symposium).
This one single payment covers you for as many days, as many sessions, and as you wish, with no additional entry fees. All available workbooks are provided for you, even if you are unable to stay for that particular day.
SPONSOR: $1250 (for individual or married couple or family)
Of this sum $1000 is a tax deductible donation and $250 is for entry as many days as you wish and all workbooks which are available. Sales Tax is due on workbook portion only. Sponsors and Patron are cordially invited to Friday night private presentation of the digital rollout system inside the FLAAR Photo Archive headquarters.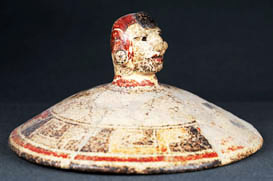 Lid of an Early Classic Peten Stye bowl, Museo Popol Vuh, Universidad Francisco Marroquin
Sponsors and Patrons (and all Invited Archaeologists) also receive:
+ access to the renowned Hellmuth Photo Archive of Maya Art & Architecture
+ access to the latest discoveries from the last six months season in Guatemala
+ invitation to the President's Reception, also attended by all the archaeologists
+ access to the extensive FLAAR Library
+ access to both book-filled rooms of the FLAAR Art & Archaeology Book Service.
+ access to color display on the large format monitors in the FLAAR archive of all the polychrome vases photographed digitally in the Museo Popol Vuh. Since most of this important Maya ceramic art is in storage in their basement, the majority of these vases, plates, and bowls have never been published and never seen before.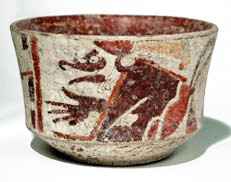 pedestal base (ring base) bowl from Campeche-Peten border area
BENEFACTOR: is especially for individuals who are able to stay only a few days but who wish to get a sample of the other days. All Benefactors (as well as Sponsors and Patron) are traditionally given personal invitations to attend the President's Reception, which is usually Saturday evening.
After the President's Reception, F.L.A.A.R. offers an additional reception in its Photo Archive headquarters and library. $300 donation per individual or married couple (plus children). This offers you entry to the entire weekend (Friday night, Saturday all day, Sunday morning, and Sunday afternoon) as well as the special events for Benefactors. About 75% of this donation is tax deductible.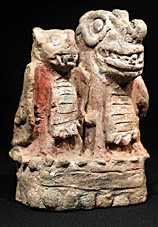 Museo Popol Vuh, UFM.
PRIVILEGED PARTICIPANT: $100 for individual, $150 for married couple. Offers entry to the FLAAR Photo Archive, library, and to the FLAAR book rooms Sunday evening or any evening from Feb. 9th onward. Inside the archive and library will be all kinds of special treats for individuals interested in learning more about Maya civilization. In this category you also cover the entry costs of whatever session(s) you wish to attend individually.
Most recently updated August 3, 2009
New page format posted July 24, 2009
page updated March 16, 1999