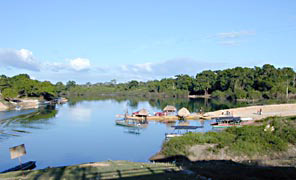 How to select a good guide and safe boatman for the Maya ruins of Aguateca, Dos Pilas, and Seibal, Peten, Guatemala.
I have been visiting Sayaxche since 1964, first as a tourist and then as organizer of Maya study groups visiting the Mayan ruins of Seibal, Aguateca, Dos Pilas, and Arroyo de Piedra. During these decades in Peten I have traveled with many boatmen and guides. All have been pleasant, informative, and ethical.
In January 2000, Andrea and I visited this area again, and traveled with Saul Hernandez Moreno as boatman. He works for Manuel Martinez, Viajes Turisticos "La Gaviota", Sayaxche.
Saul and his son were good company and knew the area well. The price was fair (you can bargain).
The main travel agency in Sayaxche is Viajes Turisticos La Montana. You can also book your trip through any travel agency in your home town, as they will use a large travel agency in Guatemala (such as STP, which we recommend). Of course you can save money by booking yourself directly with La Montana in Sayaxche.
You can also arrange last minute trips to Sayaxche through any guide or driver at the Santa Elena-Flores-Tikal airport, such as E. Ordonez.
this particular page first posted Jan 4, 2000