Posada Caribe, near Sayaxche, Peten, Guatemala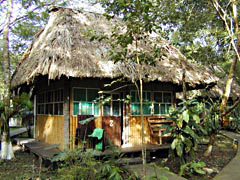 The Posada Caribe is a short boat ride from Sayaxche, Peten, Guatemala. One hour by slow boat; 30 minutes by speed boat.
The Posada Caribe offers cabins alongside the Arroyo Petex Batun, en route to the Maya ruins of Aguateca and Dos Pilas.
Escape the noise and garbage of a town and instead spend a pleasant night in the rain forest.
Owner is Julian Mariona, Viajes Turisticos La Montaña, Sayaxche, Peten. This travel agency can be reached via Internet and telephone. Nowadays TIGO cell phone system reaches most of the Peten area, even remote areas..
I have known Sr Mariona for several decades, have stayed in his hotel several times, and can recommend it if you wish cabin-style accomodations out in a peaceful setting directly overlooking the river.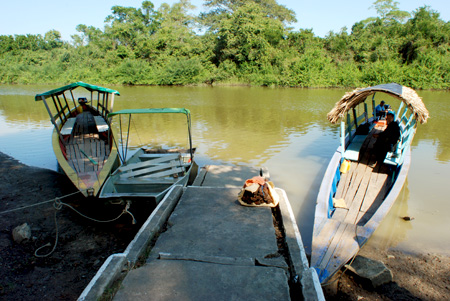 Here are the typical boats that take visitors back and forth. If you need a speed boat, they are smaller and not as quaint.
Any water taxi in Sayaxche can bring you to the hotel. The hotel is a few minutes from the landing for Dos Pilas (from the landing it is a 3-hour walk in to the ruins). The hotel is about an hour from the landing for Aguateca (a 15 minute climb up the steep hill).
This part of Guatemala is relative peaceful and Sr Mariona is known to all the local people. If you wish to see specific birds, animals, flowers or trees, just send him the list in advance. FLAAR does a lot of its Mayan ethnobotanical research using this posada as our base.
Contact info and Reservations
Julian Mariona
Arroyo de Petexbatun Sayaxche El Peten Guatemala 01010
Phone number: (502) 5304-1745
From USA dial 011 502 5304-1745. The father and daughters speak English.
Photograph of the family anad staff in February 2010.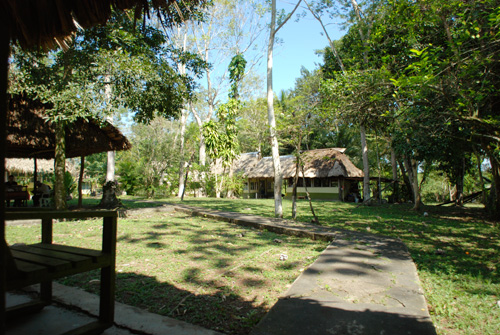 The rustic cabins are in a pleasant open area, but the thicker jungle is nearby.
Nicholas and his team have been back at Hotel Ecologico Posada Caribe several times since 2010, most recently in early 2016. We again found the guasano tree flowering. This is a tree of the genus Lonchocarpus, a relative of the blanche tree.

Along the river, and along the shores of Lake Petexbatun, we photographed many water birds, plus lots of black vultures (yes, they are very photogenic with at least a 400mm lens).

Guasano in Spanish means worm or maggot, or larva of a butterfly. But for the purple flowers, it is the name of the tree. As with many words for plants and animals, the same word can refer to many different unrelated species.
Most recently updated March 27, 2016.
Previously updated Feb. 22, 2010.
New page format posted November 19, 2009
This particular page first posted Jan 12, 2000