Radisson Fort George
Over the last 30 years of visiting Belize City I have stayed in a variety of hotels. The last hotel I tried out was the Ramada (Royal Reef, subsequently a Fiesta Inn, and now a Princess hotel and casino). The rooms were large, the view out the window was perfect, so I listed that as my first choice in Belize City.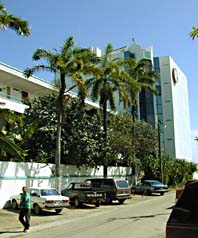 Radisson Fort George Hotel
But in January 2000 the Princess was under renovation so I tried out the Radisson Fort George. The hotel was better than I expected. We had Room 112 and it was spacious. The bed was large and the best of any hotel during my last three months throughout Central America. "Best" means firm, no sag, and the pillows were the proper size, not stiff or too large (as in cheaper hotels).
Service was wonderful. We had asked for taxi driver Darrel Rivers, who was out on runs the first day. The second day the head bell boy telephoned our room to say he had spotted Darrel. This is service.
The breakfast bar was different than Shoney's, but then it had local Belize favorites. After all, this is why people travel to other countries, to experience something new and different. Besides, the restaurant of the Radisson Fort George had a view directly overlooking the Caribbean Sea. After all, this hotel is a marina as well.
The Fort George was Belize's first good hotel several decades ago. It went through various transformations, additional buildings, and now is a complex of several structures (including another hotel across the street which was brought under the Fort George banner). For the last decade the Fort George has been part of the Radisson chain. Thus you can expect the corresponding price level. A standard room at the Radisson, however, is as large as a junior suite in most other hotels.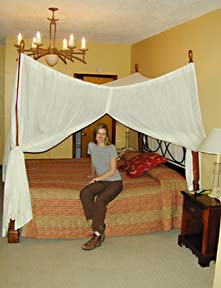 Hotel room
Our room had a full couch, a full comfy "living room" chair, coffee table, a desk of adequate size to use my computer, an additional table, and plenty of space on the other side of the bed as well. Furthermore our room had an outside patio (with a view of the bay and ships).
Here is another room what Andrea labeled the "Honeymoon Suite." I think that was a hint that we should select this room the next time in Belize.
The Radisson Fort George Hotel can be reached directly at 1-800-395-7046 for the US, (501) 2-233333 in Belize City, email: [email protected], website: www.radisson.com/belizecitybz.
New page format posted November 19, 2009
this particular page first posted Jan 12, 2000