Mayan Epigraphy and Related Iconography Lectures Series
Museo Popol Vuh
Let archaeologists teach you how to read the ancient Mayan hieroglyphic texts on 4th through 9th century Maya vases, bowls and plates.
If you are curious about the meaning of Mayan hieroglyphic writing, come to Brevard Community College, and we will work together with you to learn and understand the thousand year old inscriptions.
The F.L.A.A.R. Photo Archive has an impressive photographic archive of unpublished Maya hieroglyphics inscriptions available for you. We have been photographing Mayan glyphs for over thirty years, so you can count on having an ample selection available to you.
F.L.A.A.R. has the only digital rollout system in the world which is dedicated to recording Mayan hieroglyphs. The digital format allows observation of detail which is not easily visible in an old fashioned photograph. F.L.A.A.R. has infrared rollout photographs as well. Come to sunny Florida and escape the winter. The Bee Line Expressway (Route 528) goes directly from the Orlando International Airport towards our campus in Cocoa, located immediately adjacent to Cocoa Beach and just south of Cape Canaveral.
Epigraphy is the study of the meaning of hieroglyphic writing. Many glyphs are on the Late Classic vases, bowls, and plates, and we can easily learn the key hieroglyphs, such as the word for cacao. No prior knowledge of Mayan hieroglyphic decipherment is required. This is not a technical session on phoneticism, but a slide show of exquisite examples of the best artwork produced by Classic Maya scribes.
Iconography is the study of meaning in art, specifically to learn to recognize how to identify the different Maya deities and mythical monsters. Whereas Chac had a long nose, not all long-nosed deities represent Chac. The so-called Chac on Tikal's North Acropolis is actually the head of the Principal Bird Deity.
Thursday, February 5, 1998
Lectures on Mayan Epigraphy, Related Iconography, and Archaeology, Part I
Beginning at 10 a.m., concluding at 6 p.m. Moore MultiCultural Center, adjacent to WBCC-TV (you will see the TV tower). Friday night and all weekend are in the Fine Arts Center, but the pre-weekend and post-weekend FLAAR Photo Archive sessions are in the Moore MultiCultural Center. You can see the tall TV antenna from everywhere on campus. This building is also next door to the Vocational Building, where FLAAR is situated in Room V-199. But registration Thursday morning is in the Moore building.
Dr. Barbara MacLeod and Dr. Nicholas Hellmuth will teach you how to read the Primary Standard Sequence hieroglyphs on vases, plates, and bowls, AD 400-900. Dr. Joseph Ball will be bringing exotic PSSequences which have not yet been published. The F.L.A.A.R. Photo Archive will present PSSequences never before published.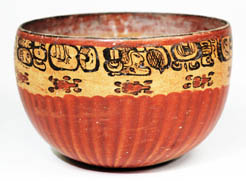 Did we make a mistake producing this image? No! This is a rare Maya PSSequence written in reverse script. Direct digital photography by Nicholas Hellmuth, F.L.A.A.R. We also have a complete rollout of this as well as rollouts of all the bowls and vases on all these symposium pages.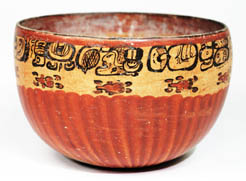 Using computer technology, we can quickly mirror the image, and present it in a more easily and normally read fashion, which is read from left to right, with the heads facing left.
Friday, February 6, 1998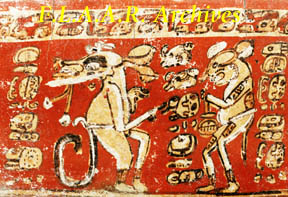 Rollout from Museo Popol Vuh
Mayan Hieroglyphic Decipherment, Part II
Beginning at 9:45 a.m., concluding at 5:30 p.m.
This program is suitable for all ages and backgrounds. We provide gentle instruction, starting from the beginning, to help you to learn to read, and enjoy, Mayan glyphs from the fabled photo archive of Dr Nicholas Hellmuth, FLAAR at BCC.
All images on this web site are copyright.
BCC portion begins at 6:30 p.m. An Evening of Public Archaeology Lectures ending at 8:30 p.m. Fine Arts Center
All of the Maya Symposium Events are open to the Public
Events of Feb. 5th and 6th and Feb. 9th onward are held in the Moore Multi-Cultural Center, next to WBCC-TV television station, on the Cocoa campus of Brevard Community College.
Postscript 2009 (as we are in the process of updating this web site with a new system).
FLAAR was the first institute to utilize a digital rollout system (circa 1997). Mechanical rollout cameras have been used since the 1890's. Yes, that is not a typo, since the 19th century. Rollout cameras were used in industry in the 1930's (to record aspects of round objects such as pistons). The advantages of a digital rollout system are two: precision and color accuracy. A digital rollout is controlled by a computer processor (not a guestimate based on manual tabulations). And a digital photograph can be balanced to gray before it is taken (you balance your first photograph of the day and then the camera applies this gray balance to all subsequent photographs taken that session). The result is that a digital rollout camera is more precise in all aspects.
Most recently updated August 3, 2009
New page format posted July 9, 2009
page updated March 16, 1999