You can expect excellent food at the Capricorn Restaurant, Ambergris Caye, a short water-taxi ride from San Pedro. Actually you can walk to Capricorn Restaurant from several of the restorts north of San Pedro. The Capricorn Restarant is next door to Capt Morgan's Retreat (separated by a vacant property).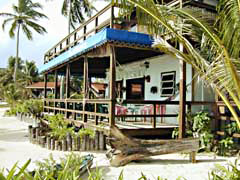 There are other restaurants with high ratings, but after entering one Andrea and I turned around and left because the room was uninspired and had no atmosphere. We then went to Fidos, which certainly had a tropical appearance. The shrimps at Capricorn Restaurant were larger and nice than those at Fidos.
In fact the garlic shrimps at the Capricorn Restaurant were the best in the country. Indeed earlier the same day we had hard, overcooked shrimp for lunch at a restaurant on anyother caye. The shrimps at the Capricorn were the juicest and obviously fresh from the sea.
Capricorn Restaurant offers Filet Mignon, Grilled Lobster tail, stone crab claws, pasta, and naturally shrimp. We had an outstanding Key Lime pie and coconut ice cream for desert. The pie was as good if not better than in any good restaurant in Florida or elsewhere.
It is obvious from the photographs that the restaurant is right on the sandy Caribbean beach with the sea immediately in front of you. Since the climate is usually pleasant you can dine outside on the shaded porch.
Capricorn Resort, P.O. Box 65, San Pedro, Ambergris Caye, Belize, Central America.
www.ambergriscaye.com/capricorn
new page format posted November 16, 2009.