Introduction to Curatella americana, Chaparro, of Guatemala and Mexico
Our initial interest in Curatella americana, Chaparro, is because it is listed as a flavoring, as a spice. But during the recent two years we have learned that a lot of "ingredients" of foods of pre-Columbian Mesoamerica were really medicinal. The rest of the drink or food was the carrier, the vehicle for ingesting the medicine. Yes, some had flavor, or aroma, but the real reason for ingesting the plant is as medicine. So this discussion treats Curatella americana as a medicinal plant. But the chemicals in this plant can also serve other utilitarian applications. We will discuss the remarkable chemistry of different parts of this tree in separate FLAAR Reports.


So we are now studying Chaparro, Curatella americana, more as a medicine and not as a condiment or spice (but we are leaving the kitchen door open for learning more about possible uses as a flavoring also). We have learned from our study of tobacco, incense, and cacao that often the same individual plant, pericon is the best example, can be used as an ingredient in almost everything. Pericon, Tagetes lucida, is a potent spice (we raise it, the fragrance is noticeable). But pericon, like almost every plant we find, is also used as a medicine.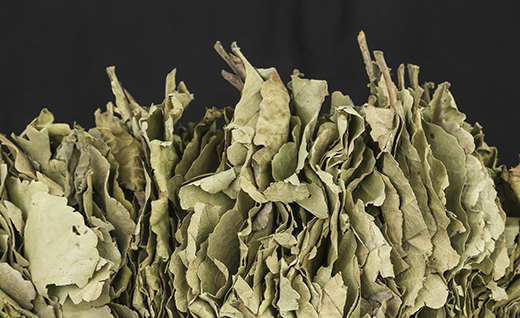 Curatella Americana dry leaves, taken with a Canon EOS 6D, April 2014
Finding Curatella americana, Chaparro
It has taken us four years to find an actual plant of Curatella americana, Chaparro. We had samples of the leaves since they are literally used as sandpaper. But most local people do not want to tell others where their scarce natural resources come from; they are understandably afraid that someone else will go and harvest all the leaves and none will be left for them.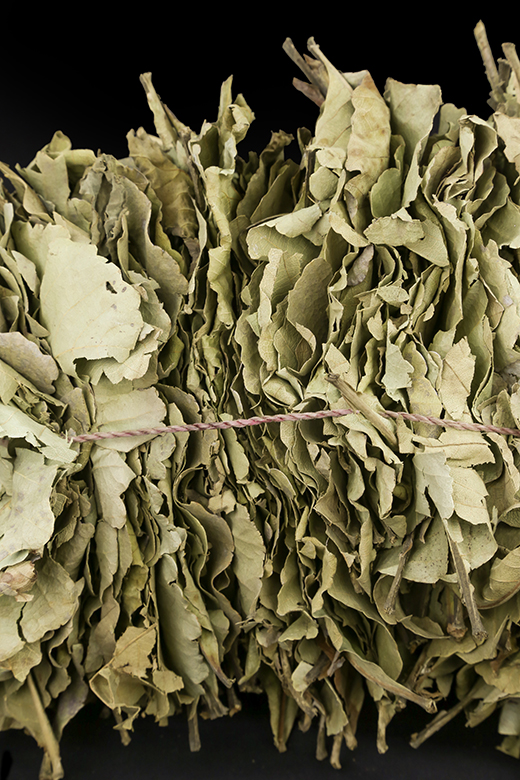 Curatella Americana dry leaves, taken with a Canon EOS 6D, April 2014
But over the years, as they got to know us, and they realized that I was simply a curious gringo who really enjoyed finding and experiencing remarkable native Mayan plants, they took us to look at the actual trees. We will report this on our web site on Mayan ethno-botany later this year.
The history of the uses of Curatella americana, Chaparro in all parts of Mexico and Central America is impressive. The chemistry of the drugs that can come from this plant is equially notable. The fact the tree is a challenge to find makes the search more of an adventure.
In the meantime here is an introductory bibliography.
Bibliography on Curatella americana, Chaparro
ANDRADE, L.S.
2007
Estudo do potencial mutagênico e antimutagênico da Curatella americana L. Goiânia. Dissertation Master's in Biology. Universidade Federal de Goiás.
BAILEY, L.H.
1941
The standard encyclopedia of horticulture. The Macmillan Co. New York. Bastos, M.D.N.D.C. 1984. Floristic survey of fields of the state of Para Brazil. 1. The field of Joannes Marajo Island. Boletim do Museu Paraense Emilio Goeldi Serie Botanica 1:67-86.
BEARD, J.S.
1953
The savanna vegetation of northern tropical America. Ecological Monographs 23:149-215.
BEHLING, H.
1995
A high-resolution Holocene pollen record from Lago do Pires, SE Brazil vegetation, climate and fire history. Journal of Paleolimnology 14:253-268.
BEHLING, H. and H. HOOGHIEMSTRA
1999
Environmental history of the Colombian savannas of the llanos Orientales since the last glacial maximum from lake records El Pinal and Carimagua. Journal of Paleolimnology 21:461-476.
CAVALIER, J., AIDE, T.M., SANTOS, C., EUSSE, A.M. and J.M. DUPY
1998
The savannization of moist forests in the Sierra Nevada de Santa Marta, Colombia. Journal of Biogeography 25:901-912.
CLAMENS, C., LEON-de Pinto G., RINCON, F., ANTONIO, V. and O. BELTRAN
1999
The behavior of Samanea saman and Curatella americana as gum producers. Boletín del Centro de Investigaciones Biológicas Universidad del Zulia 32(2): 67-78.
EL-AZIZI, M.M.; ATEYA, A. M.; SVOBOBA, G. H.; SCHIFF Jr., SLATKIN, P.L. and D. J. KNAPP
1980
Chemical constituents of Curatella americana (Dilleniaceae). J. Pharm. Sci., vol. 69, no. 3, 360-361
FOLDATS, E. and E. RUTKIS
1969
Sprouting of Curatella americana as affected by fire. XI International Botanical Congress Abstracts, 61 pages.
FOLDATS, E. and E. RUTKIS
1975
Ecologicals studies of chaparro (Curatella americana) andmanteco (Byrsonima crassifolia) in Venezuela. Journal of Biogeography 2:159-178.
GARCIA-Miragaya, J., FLORES, S., and N. CHACÓN
1994
Soil chemical properties under individual evergreen and deciduous trees in a protected Venezuelan savanna. Acta Oecologica/International Journal of Ecology 15: 477-484..
GENTRY, A. H.
1993
A field guide to the families and genera of woody plants of northwest South America (Colombia, Ecuador, Perú). Conservation International Washington, DC. 895 page.
HIRUMA-Lima, C., RODRIGUES, C., MARITINS, K., MELLO, T., SOLANGE, L., BARBOSA, S., PIETRO, L., SOARES, F., ANDRADE, F., DONIZETE P., VILEGAS, W., SOUZA, A. and Regina MONTEIRO
2009
The antiulcerogenic effects of Curatella americana L. Journal of ethnopharmacology.

http://science.naturalnews.com/2009/2399508_The_anti_ulcerogenic_effects_of_Curatella _americana_L.html
MOREIRA, A., PIUVEZAM, M.R., ARAUJO, C., and G. THOMAS
1999
Studies on the anti-inflammatory and analgesic activity of Curatella americana L. Journal of Ethnopharmacology 67:171-177
PENNINGTON, Toby and James RATTER
2010
Neotropical Savannas and Seasonally Dry Forests: Plant Diversity. CRC Press Inc.
Page 12 is very informative, since nance is also all around the sandpaper tree in Guatemala hill savana area near Rabinal.
SOARES, F. R.; OLIVEIRA, M. B. N.; BERNARDO-Filho M. and A. R. BRITO
2002
Efeitos biológicos do extrato bruto de Curatella americana a partir da marcação de hemácias e proteínas plasmáticas com tecnécio-99m. Alasbimn J., v. 4, n. 14, 2002. [III Encontro Nacional de Biociências Nucleares, Radiofarmácia e Radiofarmacologia, Poster 1.33.
Posted June 25, 2014