Hotel Guayacan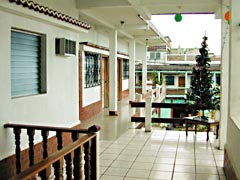 Sayaxche, Peten, Guatemala has several hotels within the town, but the one that is suitable for tourists is the Hotel Guayacan. This is a budget hotel so will be easy on your pocketbook.
Owner of the Hotel Guayacan is a leading citizen of Sayaxche, Mauro Julio Godoy Mendez. Don Julio also owns one of the few remaining areas of virgin rain forest on his cattle ranch. He has protected this parcel for years hoping to open it to eco-tourism some day.
I have stayed at the Hotel Guayacan many times over the last decades. The hotel is safe and secure. The owner knows everyone in the Peten and is a fountain of information.
Tel (502) 7928-6111, fax 7928-6469.
Prices from US $15 to US $25. All rooms that we looked at had private bath.
New page format posted November 19, 2009
this particular page first posted Jan 11, 2000