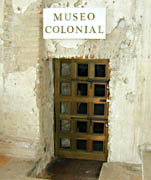 Entrance to the display of colonial masterpieces.
The Hotel Casa Santo Domingo is the only hotel in Central America with two museums inside the hotel property.
The hotel's museum of archaeology includes Teotihuacan-Tiquisate and Maya art of pre-Columbian times. The hotel's museum of colonial art includes masterpieces of a considerable variety. Actually the entire hotel is a museum since it includes the ruins of Santo Domingo.
The museum of Maya antiquities is covered on www.maya-archaeology.org (check the index-directory page of that popular web site).
The museum of Spanish colonial art is covered on the present pages, this being the introduction. Pictured here is the altarpiece used in the remains of the original Spanish colonial church. This church still functions for Catholic mass and other devotions.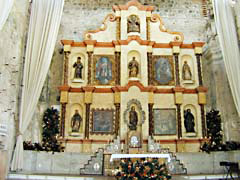 Altarpiece at the museum of colonial art
New page format posted November 19, 2009
this page first posted Jan 12, 2000