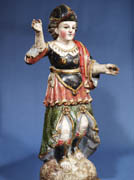 Colonial art statue
The museum of Spanish colonial art within the Hotel Casa Santo Domingo includes aesthetic masterpieces of this genre. To demonstrate the quality possible from 4x5 format digital photography we spent an entire day doing photography with the best 4x5 studio camera available, the Sinar from Switzerland. We used a Better Light digital scanning back.
With tungsten lighting from Lowel and spots from Dedolight it was possible to get the results pictured at the left. The JPEGed format and a mere 72 dpi to survive over the Internet does not reveal the fully beauty of the photograph. An 11x17 enlargement, at 1200 dpi, on a Tally color laser printer or a 36 inch enlargement on an Encad wide format printer reveal the full quality possible with large format digital photography
When a museum has important works of art, they deserve to be photographed with correspondingly good photography equipment.
The museum of colonial art (and the museum of Maya archaeology) within the Hotel Casa Santo Domingo are open to the public. The hotel is located in Antigua (Guatemala), the former Spanish colonial capital of most of Central America.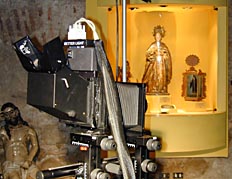 Photographing the museum pieces
New page format posted November 19, 2009
this page first posted Jan 11, 2000