Hotel Santo Tomas
The recommended hotel for Chichicastenango (Guatemala)
If you wish to really have a cultural experience, stay at the Hotel Santo Tomas when you visit Chichicastenango. The collection of Spanish colonial art of this hotel is better than the collections of most major museums. The flowers in the patios rivals those of many botanical gardens. The macaws and parrots add an additional exotic touch.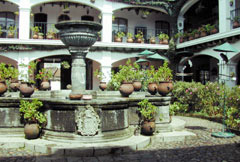 This hotel was lovingly built by Sr. and Sra. Magermann and is still managed by Sra. de Magermann and her family. I have stayed at this hotel many times and always look forward to returning. If you want total peace and quiet--either a secluded romantic hideaway or a retreat from turmoil at home or at the office--then select Monday or Tuesday night. Since there is no market days before or afterwards, you will have the place to yourself.
If you want to enjoy the hustle and bustle of the world-renowned Quiche Maya market days (Thursday and Sunday) then stay overnight either Wednesday, Thursday, Saturday, or Sunday.
When you speak with your travel agent, be sure to request the Hotel Santo Tomas specifically by name. 43 rooms with fireplace are available. Each room has different decorations and many of the rooms have a unique style or shape. Some rooms are considerably larger than others, virtual suites. The patios and courtyards are filled with flowers (and parrots and macaws).
Country code for Guatemala is 502; telephones for the Hotel Santo Tomas in Chichicastenango are 7756-1061 and 7756-1316, fax 7756-1306. E-mail: [email protected].
Address of the hotel is 7th Avenida 05-32, Zona Unica, though the village is so small the hotel is easy to find.
New page format posted November 15, 2009
posted January 1998, updated Oct 29, 1999 links added March 6, 2000