Hotels in the Panajachel and Lake Atitlan Area
The F.L.A.A.R. team has been in Guatemala several decades and was recently in the Panajachel and Lake Atitlan area checking out which hotels should be recommended.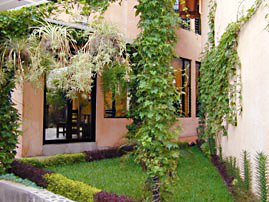 In past decades I have stayed at the established hotels such as the Tzunjuyu and the nearby Atitlan (Camino Real chain in Guatemala). But now countless new hotels exist. Warning, many of the new hotels are ugly concrete monstrosities that are a blot on the landscape. It is rather hard to tell what hotel your travel agent is going to stick you in, so F.L.A.A.R. tries to help out so that you can look forward to a more pleasant visit to Guatemala.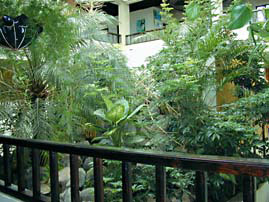 If you wish a hotel in Panajachel filled with gardens full of tropical flowers consider the Hotel Posada de Don Rodrigo.
Posada de Don Rodrigo, Final Calle Santander, Panajachel, tel (502) 7762-2326 / 7762-2329 / 7762-2331 7762-2332 / 2331-8017 2331-5562 / 2339-4332 / 2362-1148/49
Corporacion Hotelera, office in Antigua Guatemala, tel (502) 78329858, e-mail [email protected]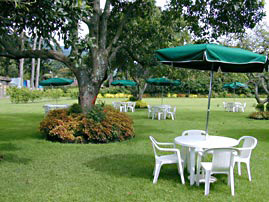 The spacious main garden of the Posada de Don Rodrigo.
Another option is the Villa Santa Catarina, in a nearby village. This is part of the Guatemalan group of Villas de Guatemala (Villa Maya near Tikal, Hotel Maya International adjacent to the airport in Santa Elena which serves Flores and Tikal), Villa Grande in Chichicastenango, and the Villa Colonial in Antigua. I have known the owner, Rafael Sagastume and his family for several decades. He is owner of STP, one of the top three travel agencies in Guatemala.
Reservations in Guatemala for the Villa Santa Catarina, Lake Atitlan, telephone in main office of Villas de Guatemala, in Guatemala City, (502) 2334-1818, fax 2334 8134, email: [email protected]
New page format posted November 18, 2009