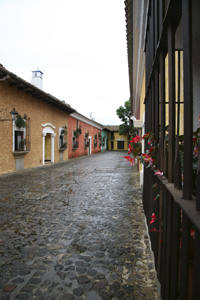 Hotel Villa Colonial, Antigua Guatemala
F.L.A.A.R. inspection team visited Antigua, Guatemala (for umteenth time over several decades) to check on the hotel situation. We visited the Villa Colonial and stayed in amidst its tropical gardens for several pleasant days. This hotel is family owned.
We also visited the Hotel Casa Santo Domingo, one of the most ambitious hotel projects in Central America. We review hotels in Antigua on this web site and other hotels on www.maya-archaeology.org
The Villa Colonial is on the outside of the city in the area where all the wealthy people are beginning to move (there being no more space within the downtown of Antigua any more). The Villa Colonial is directly adjacent to the Calvario, a charming colonial church. Coffee plantations occupy the area across the street.
The Villa Colonial is part of the Villas de Guatemala. Other hotels in the Villa chain are the Hotel Maya International (Santa Elena, Peten, near the island of Flores, serving Tikal), Hotel Villa Maya (on a private lake in a beautiful secluded location en route from the airport to Tikal), Villa Grande (overlooking Chichicastenango), and Villa Santa Catarina (on the shores of Lake Atitlan). We have stayed in most of the hotels of this company over the more than 35 years that we have been visiting Guatemala and recommend them. www.villasdeguatemala.com
The Hotel Casa Santo Domingo is an independent hotel not affiliated with any chain.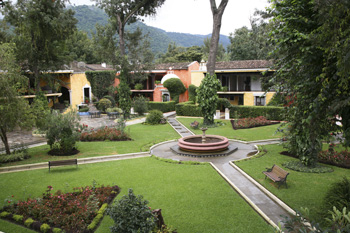 Hotel Villa Colonial, Antigua Guatemala
New page format posted November 19, 2009