Hotel Nitun is a pleasant place to get away from concrete block reality
If you prefer a more local Peten style, Guatemalan style, Mayan style hotel, then select Hotel Nitun.
If you prefer a concrete block rectangular shape hotel there are dozens of these all over San Benito, Santa Elena, and the island of Flores. I have stayed at many modern hotels in part because I know the owners of several of these (a result of having lived in Tikal 12 months and at Lake Yaxha for five years, plus having led tour groups to visit Guatemala for about 30 years).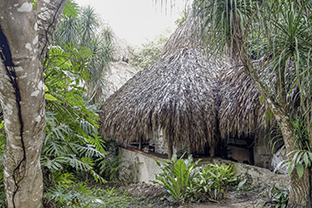 Nice aspects of Hotel Nitun:
No highway nearby, no road, no street, so not much traffic noise at night.
Personal service from the owner, Lorena
good healthy food (unless you ask for unhealthy junk food)
Arturo Godoy is an accomplished chef
Bungalows are far enough from each other you can be relatively private (if on a honeymoon, or practice for a future honeymoon).
They also can provide guided tours
Rooms are not wheelchair accessible. Since the hotel is on a hill, all rooms are accessed by steps (rather slippery, best not to drink too much before walking back to your room).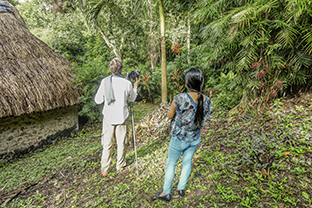 How to get to Hotel Nitun, Lake Peten Itza, San Andres, Guatemala
There are two routes to drive to El Peten: the usual way is via El Rancho, Rio Dulce, Poptun, etc. The longer more scenic route is via El Rancho but here turn north to Coban, Alta Verpaz, then all the cave areas of Candelaria Campo Santo, then Sayaxche, then to San Benito to turn to the hotel towards San Andres. This longer route is best done as two day trip, spending the night at either Candelaria Campo Santo or Mucbilha (to explore one or both of these groups of caves).
How to drive through Santa Elena, San Benito, Flores to head to Hotel Nitun
The first challenge is to find your way through Santa Elena and San Benito (to reach the road to San Andres). So focus on finding the main street through San Benito, the city on the mainland which faces the island town of Flores. Santa Elena is the town where the international airport is located. You drive through Santa Elena to reach San Benito (they are simply both suburbs of each other). Both face the Lake Peten Itza and the island of Flores (and the ruins of Tayasal which is the hill on the other side of the lake).
As a footnote, the Ytza capital of Tayasal was the island of Flores; what modern archaeologists use as the name Tayasal is a Late Classic Maya ceremonial center. The Ytza capital was on the island of Flores, and was late Post Classic in time period (actually was visited by Hernan Cortez during the years of the Spanish invasion).
One way to find your way through any town in Guatemala is to pay a Tuc-tuc driver to lead you to where you wish to go (here, the highway that goes outside that town). Or, ask how to get to a place that is on the road you need to be on. So ask how to get to Hotel Palacio Maya (should be at your left). Or use GPS (or have a local guide as your driver).
Then a kilometer or so later you come to a larger than normal roundabout (redondel or glorieta in Spanish). It has two fat but not very high ceiba trees at one end. There is a large clearly visible Shell gas station on the far side of the redondel. To the left is a no-brand gas station (which you will not notice since it is far to the left).
Drive to the edge of San Benito, Peten. There is a gas station. Three forks in the road here:
Far left, goes to La Libertad via San Francisco
Middle: goes to La Libertad, but not paved
Right: goes where you want to go (towards San Andres).
From San Benito drive towards San Andrés. You will pass a timber factory, some grassland, cattle farms. Pass Hospital Shalom. Keep straight. You will reach Puente de Sacpuy. A normal highway concrete bridge.
Landmark

How far from "Flores"

San Benito

0
Bridge over wide river or narrow lake. You want to take a left immediately after the bridge; to the right goes towards El Mirador (ruins), but first to San Andres. This is the turn you want, to the right.

10 kilometers from San Benito to bridge. San Benito is suburb of Flores, west of Santa Elena and southwest of the island of Flores.
Once crossed the bridge, turn right towards San Andrés. Follow the orange La Danta gas station signs that offer restrooms, restaurant, etc. You will pass Adelita Calvani Ecological Park sign. Do not turn, keep straight ahead. One kilometer after the sign on the same road to San Andrés you will see a sign that reads Bolontiku. They are neighbors and this is also road to Nitun. Turn right here and continue down the road until you see a wood sticks fence and a gate of sticks to your right. This is Ni'tun.
The neighbor hotel has the huge concrete parking lot and a guard's gate. Hotel Nitun is not a concrete block style; has a nice simple entrance.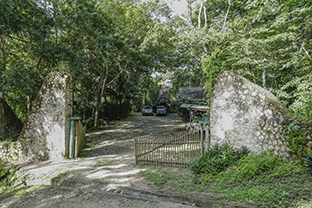 Contact information for Hotel Nitun and Monkey Eco Tours:
Lorena Castillo
Telephone: +(502) 5201-0759

502 is both country code and city code together.
Email: stay@nitun.com
You can learn more on their web site, www.nitun.com
Posted early December 2015 after our enjoyable visit to Hotel Nitun on Thankgiving day, on route to Las Guacamayas Biological Station.
Landmark

Our vehicle's odometer

How far from "Flores"

San Benito

0

0
Bridge over wide river or narrow lake. You want to continue on the paved highway which goes a bit right immediately after the bridge; to the left is unpaved road which goes towards Paso Caballos, Rio San Pedro, Las Guacamayas Biological Station and El Peru (ruins).

10

10 kilometers from San Benito (suburb of Flores) to the Puente Sacpuey (Sacpuy Bridge).