Advantages of the Dedolights for Lighting in Studio Photography
Rather than selecting fresnel lamps I experimented with using Dedolights. Fifteen years later I am still using them, and last year bought an entire additional set to store in Germany, since my other set is in constant use in Japan, Mexico, and Guatemala.
These lights have survived hundreds of thousands of miles of rough roads throughout Central America. Heat, humidity, and constant use have not even left a scar.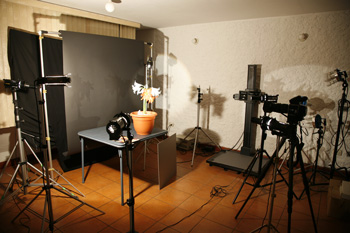 Studio Photography with Dedolights
Lowell Tota Lamps provide my main illumination. Lowel DP lights provide the more powerful lights required by digital cameras. But still the Dedolights are best for all the details of three-dimensional objects such as sculpture. With anything three-dimensional, all the details that are recessed or towards the bottom normally get left in deep shadow. With a Dedolight you can illuminate these features so that people can see the details.
In archaeological photography, I have developed what I term "iconographical lighting," because it is crucial that all the details be visible so that scholars and students can see all aspects of a costume, accessory or other cultural feature of a work of art.
This system violates everything students are taught in lighting courses, but archaeologists and art historians need to see the detail, not to smoother it in award-winning shade. So my photographs will not win any awards, but they sure allow students and scholars to see what is going on.
If you are using a professional digital scanning camera, be sure to avoid using any equipment which creates an electrical disturbance that will travel through the electrical wires and affect the digital image. The effect will be a dark line across your image (ruining your picture). While doing test photography we began to notice these defects in the photographs. It took several days of testing to isolate the problem.
It turned out that any electrical motor, even small fans, even when on another circuit, could cause the lights to flicker. When the light flickers, then the digital camera records a darker pixel row(s). When we turned off the Dedo transformer, then the other (non-Dedo lights such as Lowel and Videssence) worked perfectly. Mr Weigert told us on the phone that his other model that uses its own coupled transformer would not cause the defects, but we were stuck with two sets of the 4-light system. But if you are not using a CCD scanning camera, you will still find Dedolights useful. In 1999 we intend to find a good substitute for the Dedolights that are better for using with high-end 4x5 scanning cameras, since these systems are the future for studio photography. In the meantime, use Sola hevi-duty constant voltage regulators for your lights. Sola regulators condition the incoming electricity so that it is not a cause of flickering.
I never recommend anything that I have not purchased with hard earned money. You can get Dedolights the same place I buy them, either directly in Germany (Munich) 089 52 5064, fax 089 52 91 73, or in the USA. When I have photography assignments in Munich I have visited the Dedo Weigert Film GmbH headquarters, and was treated in a friendly and competent manner.
Same in the USA, even when I was a beginning student, Allen Green always made sure the equipment reached me on time when I ordered it: Visual Departures, Ltd,, New York, (212) 534-1718, fax (212) 410-3328, toll free tel (800)628-2003.
I have won several major contracts because I could do "iconographical lighting"and others did "textbook lighting." Dedolights are the secret weapon for iconographical-style lighting.
CCD scanning backs (high-end digital cameras such as Better Light or PhaseOne) require considerably extra lighting power because of the required thick digital infrared filter on your lens. This digital camera filter blocks much of the light spectrum. Strobe lighting does not work because you need continuous lighting with the long exposures needed for digital photography in the studio. Thus you need tungsten or HMI lighting.
Actually it turns out that digital fluorescent lighting may be the best of all. Fluorescent lighting is death to taking pictures using traditional film, but fluorescent lighting is ideal for using with a digital system. The software of all professional high-end digital systems can balance for gray on a gray card for almost any kind of light.
We initiated tests with Videssence SRGB fluorescent lighting and now are expanding these tests to North Light equipment. We are also considering testing Balcar, Fotoleuchten Grigull, and other fluorescent lighting for professional studio use. North Light fluorescent softlights can be seen at www.northlightproducts.com. North Light "Sun Spots" are available exclusively at Calumet (Calumet Photographic and Calumet Digital Solutions).
New page format posted November 16, 2009
Revised October 3, 1999