Photographs of Terminal Classic
F.L.A.A.R. Photo archive includes comprehensive coverage of the collapse of Classic Maya civilization. During the Terminal Classic the last peoples who lived (and mauraded amongst the collapsing city-states) crafted beautiful pottery which showed the last kings who held rule during these troubled times. These eye-witness records provide priceless information for archaeologists.
The printer is a Hewlett-Packard DesignJet 2800 CP powered by an EFI Fiery PostScript RIP print server which is in turn powered by a Macintosh.
Thus the F.L.A.A.R. Photo Archive takes special effort to do careful rollout photographs of Terminal Classic (Tepeu 3) vases and bowls of the Central Maya Lowlands (Peten-Belize style). Here is an especially important example we rolled out with the direct digital rollout camera.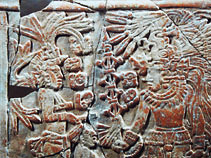 Detail of the vase.
It sure makes it a lot easier to study the details of these fascinating scenes when you can enlarge them to 36 inches across. Too bad the Internet does not allow transmision of such large files. Each rollout is about 125 MB in file size. They can be printed up to 36 x 42 inches though due to the cost of the photo paper we generally print them 36 inches wide by 24 inches tall (as shown here).
This particular vase has a complex PSS inscription, one of the most detailed such PSS ever found for the Terminal Classic. The scene itself includes about a dozen individuals; most are clearly named with a hieroglyphic text immediately adjacent to their bodies. Overall this vase is thus a treasure of information for the epigrapher as well as for the iconographer and archaeologist.
New page format posted November 19, 2009