Rare Books on Tobacco Use in the Mayan and Aztec Civilization
While a professor and researcher on digital photography, scanning, and giclee printing at Brevard Community College in Florida, one source of income for the research projects of FLAAR was helping libraries obtain rare books which were hard to find in these years.

There was not yet a fully functioning Internet or worldwide use of e-mail, so finding books in these years was not as easy as finding books is today. Although the Robicsek book was widely known and readily available to everyone, the other three books listed here were extremely rare and hard to find.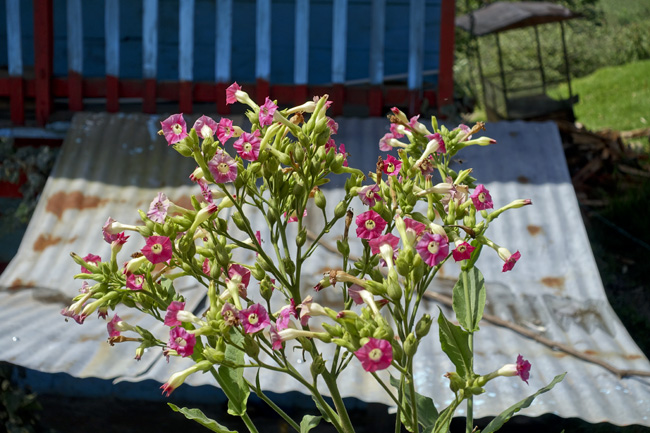 Photograph of tobacco, Nicotiana, from the FLAAR Mesoamerica ethnobotanical and medicinal garden of Mayan plants, Guatemala City.

Rare Books on TOBACCO of Maya and Aztec

AMERLINCK, Maria Concepcion, Historia y cultura del tabaco en Mexico (Spanish Edition)
. 291 color photos, 19 B+W, 33 figs, 51 tables, hardbound, 293 pages. An impressive coffee table book on tobacco including scenes from Aztec codices of smoking. The Mexican tobacco industry must have poured lots of money into producing this book. Mexican coffee table books are equal to Japanese and Italian quality, often surpassing the beauty of art books even produced in the USA.
ATLAS del TABACO en MEXICO, 1989, 134 pages (an immense 13 inches wide times by 17 inches long), extensive bibliography, discusses soils, history of tobacco (including in pre-Columbian times, with artifacts). Long out of print (means unavailable even in Mexico), we have not seen this offered for sale in the United States or Europe. Instituto Nacional de Estadistica Geografia e Informatica, Joaquin Abdon Huerta Alva (coordinator).

d'ANNA, Enrico, TABACCO STORIA ARTE. Fancy coffee table book subsidized by the Italian government as a present to ambassadors, senators. There was no way ever to buy a copy of this book. 307 pages, 198 works of art in full color, from Matisse, Munch, Degas, Duchamp, van Gogh, and also a section of MAYA vase paintings showing smoking, photos by Hellmuth.
ROBICSEK, Francis, The Smoking Gods Tobacco in Maya Art, History, and Religion
, foreword by Michael Coe. 233 pages, 234 illustrations (including photographs by Nicholas Hellmuth), 265 outstanding color plates.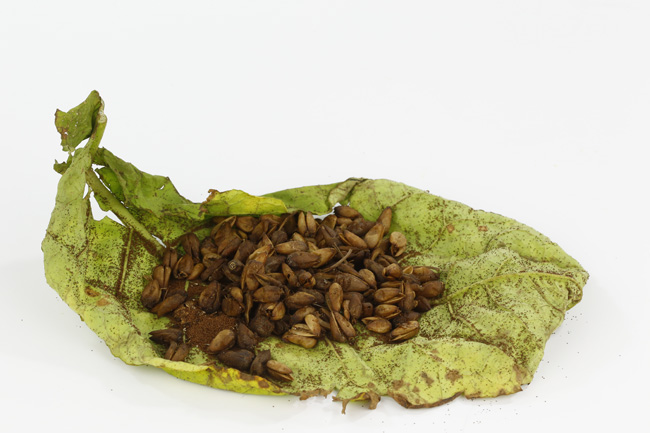 Medicinal tobacco in Q'eqchi' Mayan village of Senahu, Alta Verapaz, Guatemala. Photograph by Nicholas Hellmuth, July 2015.

We at FLAAR have a long-term interest in studying medicinal plants of the Mayan people. Plus we are interested in documenting the helpful and useful value of Nicotiana tobacco plants (since everyone is focused on bad-mouthing modern tobacco companies, but how many of these do-gooders are aware of the benefits of tobacco for thousands of years before it became chic to campaign against modern tobacco use).

We do not smoke but we allow employees to smoke outside if this is their personal decision.
Updated July 4, 2015, after the entire Art & Archaeology Book Service inventory was sent to Guatemala to help raise funds for plant research.
New page format posted November 6, 2009