Bibliography on dahlia flowers, especially Dahlia imperialis
Dahlia flowers and plants are mentioned in countless books, articles, and theses on medicinal plants. I do not attempt to list even a fraction of them here. Most of the books on dahlias are for gardeners in various countries (far from their point of origin), so do not get into detail about the ethnobotany of dahlias in Mesoamerica.
One goal of this bibliography is to remind Mesoamerican scholars from North America and Europe that many of the common garden plants of our countries actually originated in pre-Columbian Mesoamerica. Another example would be marigolds: we will have lots of pages on marigolds in the coming months. Marigold was even more important for Maya flavoring and for sacred use also.
Also, we hope that hotels and public gardens in Mexico, Guatemala, Belize, Honduras, and El Salvador can use more native plants in their gardens, instead of merely having showy plants from Africa and Asia.
Plus as a non-profit research institute we enjoy providing tips, help, for a better understanding of what is a dahlia. One way to learn about dahlias is to have a reliable list of books. Since there are plenty of books and web sites on gardening, we do not tend to list references to how to grow and care for plants. It takes a growing team of researchers and photographers to even locate the plants around the country and then to do high-res digital photographs. .
Gradually we will also make a list of good web sites. Sadly, too many web sites are simply dumps, with stuff scavenged from everywhere else. A lot of plagiarized mis-information is repeated in these information dumps.
The ethnobotanical gardens of Mayan people two thousand years ago would have been remarkable; this is the information I wish to bring back to life in Guatemala today.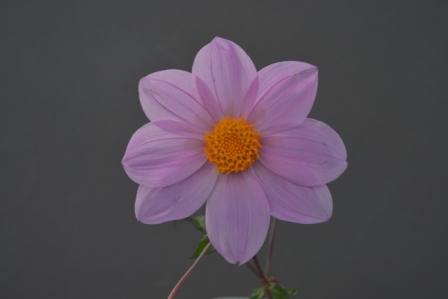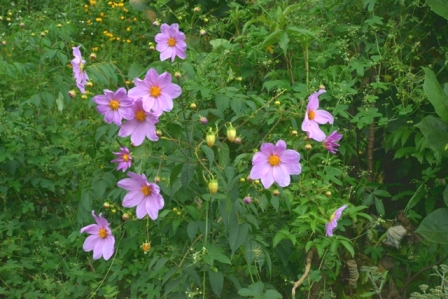 McCLAREN, Bill
2004
Encyclopedia of Dahlias. Timber Press. 211 pages.
NADER, Laura
1996
Naked science: anthropological inquiry into boundaries, power, and knowledge. Routledge.
NASH, Dorothy L. and Louis O. WILLIAMS
1922
Flora of Guatemala, Part XII. Fieldiana: Botany, Vol. 24, Part XII. Field Museum of Natural History.
POPONOE, William
1920
The Tree Dahlia of Guatemala. Journal of Heredity, Vol. 11, Issue 6, pp. 265-268.
ROBERTS, Margaret.
2000
Edible and Medicinal Flowers. New Africa Books.166 pages.
RUIZ Valladares, Inga Elizabeth
2006
Caracterización de las Prácticas Etnobotánicas de las Comunidades Chelemá y Chelemá II, del Municipio de Tucurú, Alta Verapaz. Thesis, Universidad de San Carlos de Guatemala. 91 pages. Available on-line.
SORENSEN, Paul D.
1969
Revision of the genus Dahlia (Compositae, Heliantheae-Coreopsidineae), Rhodora 71: 309-365, 367-416.
U.S. Department of Agriculture
1922
Inventory of Seeds and Plants Imported. U.S. Department of Agriculture. Government Printing Office. 83 pages.
WHITLEY, G. R.
1985
The medicinal and nutritional properties of Dahlia spp. Ethnopharmacol.Sep:14:(1) 75-82pp.
WOYS Weaver, William.
2009
Edible Dahlias. Kitchen Garden. August/September Issue. Pages. 88-91.

First posted November, 2013