Magnolia mexicana (Talauma mexicana) as flavor for cacao (cocoa)
So far we have no pictures of the two species we most seek: Magnolia mexicana (Talauma mexicana) and Magnolia dealbata. So instead we show photographs of the only magnolia we have found blooming in Guatemala so far, two trees in Antigua Guatemala, along the street leading to the largest plant nursery in that city.
Plus we found a large magnolia tree blooming about five blocks from us (across the Boulevard).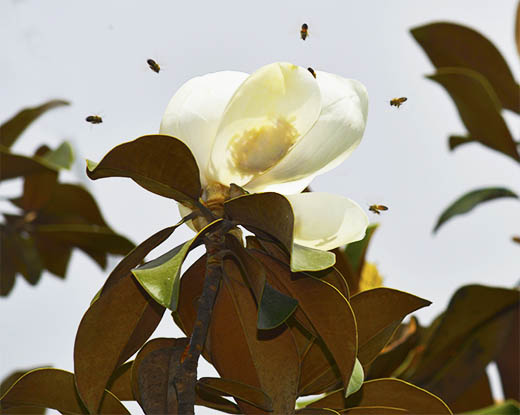 Magnolia flower at Guatemala City
These magnolia species in gardens tend not to be native to Guatemala.
In late April while attending a digital printer technology expo in Orlando, I saw hundreds of white magnolia blooming.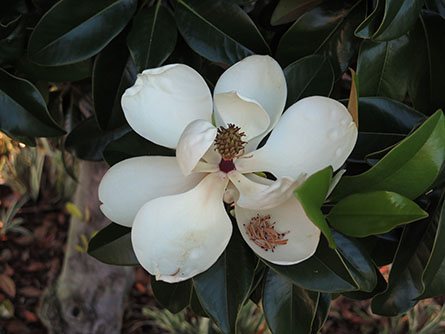 Magnolia flower from Orlando
Magnolia flowers have a very sweet fragrance. These are by far the largest flower used as a flavoring in Mesoamerica. Indeed a single magnolia flower is larger than any five other species all put together!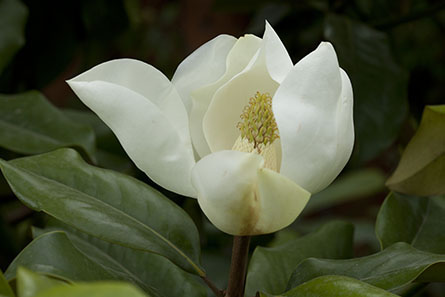 Magnolia flower blooming, Antigua Guatemala.
These magnolia species in gardens tend not to be native to Guatemala.
Introductory bibliography on Magnolia in Mesoamerica
This is a bibliography on magnolia flowers of Mesoamerica, specifically Mexico and Guatemala. Logically this also includes the adjacent Belize and Mesoamerica also includes El Salvador and Honduras. But the areas best known for magnolia are Mexico and the Highlands of Guatemala. It is interesting that magnolia in Guatemala are in rather seasonally cold areas of the Highlands, whereas magnolia in Orlando are in a hot climate at near sea level.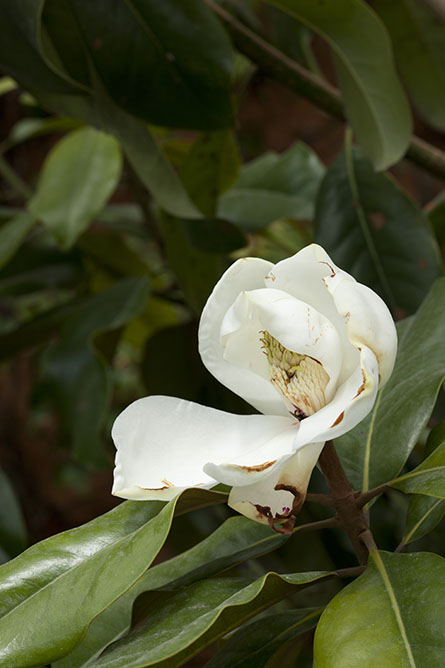 Magnolia flower, Antigua Guatemala
These magnolia species tend not to be native to Guatemala
ARMENDARIZ, E. A.
1894
Estudios químicos preliminares de la corteza de yolloxochitl. Anales del Instituto Médico Nacional. 1:115.
BAILLON, H.E.
1866
Mémoire sur la famille des Magnoliaceae. Adansonia 7: 1–16, 65–69.
BRAUBACH, C.
2000
Medicinal plants of the aztecs which are still in common use in Mexico. J. In: NAPRALERT (SM), Biological activities for extracts of Talauma mexicana. In: Database of the Natural Products Literature. Program for Collaborative Research in the Pharmaceutical Sciences. College of Pharmacy. University of Illinois, Chicago, IL, USA. Amer Pharm Ass. 1925; 14: 498-505.
BREEDLOVE, D. E.
1981
"Flora de Chiapas IV" Listados florísticos de México. Instituto de Biología, UNAM, México, 246 pp.
COLLERA, O., WALLS, F., GARCÍA, F., FLORES S., and J. HERRÁN
1963
Estudio de las cortezas de Talauma mexicana Don. y de Magnolia shediana (Magnoliaceae). Boletín Instituto de Química UNAM. XV: 38 pages.
DANDY, J. E.
1930
A new Magnolia from Honduras. Journal of Botany, British and Foreign 68: 146–147
ESCUDERO, De Mugica, Carolina
2006
CREFAL, Patzcuaro, Michoacan, Mexico
FAO
N.D.
Some medicinal forest plants of Africa and Latin America. FAO Forestry Paper 67.

Available on line, www.fao.org/docrep/015/an797e/an797e00.pdf, I estimate that the information for Magnolia was taken from standard sources; I doubt if there is original research. But it is a usable summary.
FRODIN, D.G. and R. GOVAERTS
1996
World checklist and bibliography of Magnoliaceae 71. Kew Publishing. Royal Botanic Gardens, Kew, Richmond, 72 pages.
GRANDTNER, Miroslav M.
2004
Elsevier's Dictionary of Trees: Volume 1: North America. Elsevier Science. 1529 pages.
Despite the clearly defined name, "North America," in fact t his volume includes trees from Mesoamerica.

GUERRA, F.
1938
Contribución al Estudio de la Farmacología del yolloxochitl, Talauma Mexicana. Archivos Latinoamericanos de Cardiología y Hematología.; VII: 87.
GUTIERREZ, L. and A. VOVIDES
1994
An in situ study of Magnolia dealbata Zucc. in Veracruz State: an endangered endemic tree of México. Biodiversity and Conservation 6:89–97pp.
HERNANDEZ, M. A.
1980
Magnoliaceae. In Flora de Veracruz, fascículo 14. Instituto Nacional de Investigaciones sobre Recursos Bióticos, Xalapa, Veracruz. 15 pages.

Has nice professional pen-and-ink B&W botanical drawing of flower, leaves, etc.
KASHANIPOUR, Ryan Amir and R. Jon McGEE
2004
Northern Lacandon Maya Medicinal Plant Use in the Communities of Lacanja Chan Sayab and Naha', Chiapas, Mexico. Journal of Ecological Anthropology, Vol. 8, 47-66
LINARES, Bye R and B. FLORES-PEÑAFIEL
1990
Plantas medicinales de México. Usos y remedios tradicionales, versión en disco compacto.México. UNAM
LOPEZ Álvarez, G. C., ROJAS Molina, A. and, C. IBARR Alvarado
2000
Magnolia mexicana como fuente potencial de compuestos útiles para el tratamiento de enfermedades cardiovasculares. Facultad de química. Universidad Autónoma de Querétaro.
LOZANO-Contreras, G.
1994
Dugandiodendron y Talauma (Magnoliaceae) en el Neotropico. Academia de Ciencias Exactas, Físicas y Naturales, Colección Jorge Álvarez Lleras, No. 3. Santafé de Bogotá, D.C., Colombia, 147 pages.
MENDOZA, G. and A. HERRERA
1866
El yolloxochitl, Talauma Mexicana árbol cuyas semillas y corteza tienen acción digitálica excelente. Gac Méd Méx II: 273 Pages.
MORTON, J. F.
1981
Atlas of Medicinal Plants of Middle America, Bahamas to Yucatan. C.C. Thomas, Publisher, Springfield, IL
OROPEZA, Marcial
1994
La Naturaleza; periódico científico del Museo N. de Historia Natural y de la Sociedad Mexicana de Historia Natural" SOCIEDAD MEXICANA DE HISTORIA NATURAL TOMO III AÑOS DE 1874, 1875 Y 1876.
PALACIOS, E.
2006
Ficha técnica de Magnolia mexicana. Cuarenta y ocho especies de la flora de Chiapas incluidas en el PROY-NOM-059-ECOL-2000. Instituto de Historia Natural y Ecología. Bases de datos SNIB-CONABIO. Proyecto No. W008. México, D.F.

http://conabio.inaturalist.org/taxa/204973-Magnolia-mexicana

Tiene poblaciones viables en su área de distribución natural, principalmente en las selvas del norte y noreste de Chiapas, donde llega a ser abundante. En Oaxaca, Veracruz y Puebla también tiene poblaciones importantes, aunque estas son remanentes en cultivos como cafetales, donde, subsisten como sombra del cafeto.
PARKER, Tracey
2008
Trees of Guatemala. The Tree Press. 1033 pages. This book is absolutely essential, since in one single volume you can find a list of trees that strives to be complete for a single country. But most of the book is based on Standley et al and has only one article by Vasquez (1994). There does not seem to have been any field work, for example. Since there are thousands of trees to cover I can understand it is not realistic for a single botanist to go visit every species, but that is our goal in our own research on utilitarian plants of the Maya. We wish to be In front of every tree, every bush, every vine: and not just in a herberium.

So this book on Trees of Guatemala is ok organizing Standley et al into a more modern list, but is weak in field work experience and could be considered incomplete for Magnolia. Plus the pros and cons of Magnolia vs Talauma are not really discussed in the most modern references (a relief actually, since every group of botanists classifies these differently). Fortunately there are many good articles by Mexican and Guatemalan botanists to fill out these discussions.
PENNINGTON, T. D. and Jose SARUKHAN
1968
Arboles tropicales de Mexico. Instituto Nacional de Investigaciones Forestales, Mexico, D.F.
GARCIA-Pérez, G.; ROJAS-Molina, A. and C. IBARRA Alvarado
2000
Efecto del extracto acuoso de Talauma mexicana sobre el tono del músculo liso vascular. Facultad de química. Universidad Autónoma de Quéretaro.
RÍO-de la Loza Miranda
1894
Estudio del yolloxochitl, Talauma mexicana Don., Anales del Instituto Médico Nacional. 241 pages.
STANDLEY, Paul Carpenter
1912
Trees and Shrubs of Mexico, Part 2. UNITED STATES NATIONAL MUSEUM
STANDLEY, P. C. and STEYERMARK, J. A.
1946
Flora of Guatemala. Chicago Natural History Museum Fieldiana: Botany, 24 (Part IV). 266-269 pages.
VASQUEZ, J. A.
1990
Taxonomy of the genus Magnolia (Magnoliaceae) in Mexico and Central America. M. Sc. thesis, University of Wisconsin, Madison
VASQUEZ, J. A.
1994
Magnolia (Magnoliaceae) in Mexico and Central America. Brittonia 1:1–23.
VAZQUEZ-Garcia. J. A., PEREZ-Barrera, M. A ., MARTINEZ-Melendez, N., NIEVES-Hernandez, G., VASQUEZ-García, M. A, PEREZ-Barrera, M. A., MARTINEZ-Meléndez, N., NIEVES-Hernández, G., and MUÑIZ-Castro, M. A.
2012
Magnolia mayae (Magnoliaceae), a new species from Chiapas, México. Botanical Sciences 90: 109–112
Available on-line
www.ibiologia.unam.mx/sociedad/www/pdf/BSBM%2090_2/BS90_2_109-112.pdf
VASQUEZ-Garcia J.A., MUÑIZ-Castro, M.A., DE CASTRO-Arce, E., MURGUIA-Araiza, R., NUÑO-Rubio, A.T. and M.J. CHAZARO-B.
2012
Twenty new Neotropical tree species of Magnolia (Magnoliaceae). In: Salcedo-Pérez, E., Hernández-Álvarez, E., Vázquez-García, J.A., Escoto-García, T., and Díaz-Echavarría, N. (eds.), Recursos forestales del Occidente de México: Diversidad, manejo, producción, aprovechamiento y conservación. Serie Fronteras de Biodiversidad, Vol. 4, Tomo I. Universidad de Guadalajara, Centro Universitario de Ciencias Exactas e Ingenierías-Centro Universitario de Ciencias Biológicas y Agropecuarias, Guadalajara, México. 91–131.
VELASCO, Ana María L and Debora NAGAO
1993
Mitología y simbolismo de las flores. Maestra en ciencias antropológicas e investigadora en la Dirección de Etnología y Antropología Social del inah y Maestra en historia del arte y arqueología en la Universidad de Columbia, Nueva York. Editorial Raíces S.A. de C.V.
VELAZCO-Macias, Carlos Gerardo, FOROUGHBACKHCH-Pournavab, Rahim, ALANIS-Flores, Glafiro José, and Marco Antonio ALVAREZ-Vasquez
2008
Magnolia dealbata en Nuevo León, México. Revista Mexicana de Biodiversidad, Vol. 79, Núm. 2, diciembre-sin mes, 2008, pp. 459-463.
WAIZEL Bucay, Jose
2002
Uso tradicional e investigación científica de Talauma mexicana (D.C.) Don., o flor del corazón. Revista Mexicana de Cardiología Volumen 13, Número 1 Enero - Marzo 2002 pages 31–38.

Available on many web sites as a download, including www.imbiomed.com.mx. Has an excellent bibliography.
Updated June 17, 2014 after three field trips trying to find actual magnolia trees in the mountains of Huehuetenango and El Quiche departamentos of Guatemala. We found the Finca La Perla but very exhausting hike to get near the magnolias, and until we get a 600mm prime telephoto lens, will not be realistic to get acceptable photos of what we did fine.
First posted May, 2014