Hura polyandra tree in Guatemala
This remarkable tree grows from Mexico through Guatemala and southward. We searched for this tree because we are always looking for trees with conical spines, since the Classic Maya considered trees with conical spines or bark with crocodile-like roughness as sacred.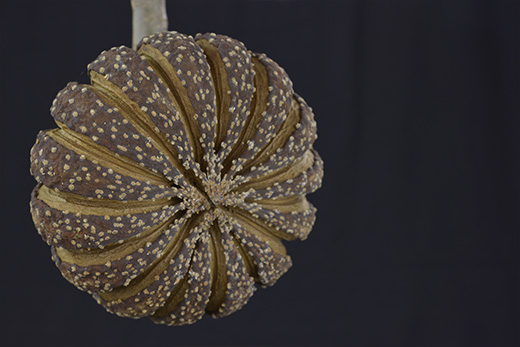 Although it turned out that the Hura tree with abundant conical spines was not H. polyandra, the tree was definitely worth studying due to its explosive seed pod. We have a separate PDF on the pods, which we have been studying in detail.

The flowers come in a male size and shape and a female size and shape. These flowers are quite remarkable shape for a tree this size (Hura can grow to considerable size). So there is a lot about this tree which encourages me to continue to study it, and to do detailed photography to assist botanists and students who are not able to wander around Mesoamerica looking for trees.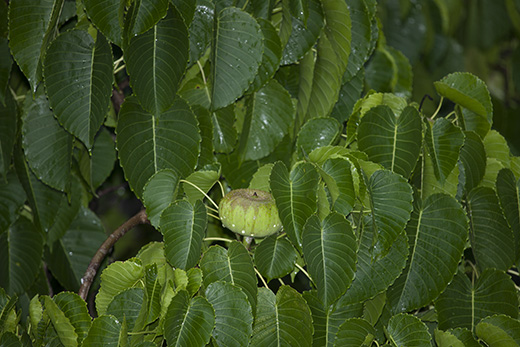 Here is an introductory bibliography on Hura polyandra and its relatives.
ACAMOVIC, T., STEWART, C.S. and T. W. PENNYCOTT
2004
Poisonous Plants and related Toxins. CABI Publishing.
AGUILAR-CONTRERAS, A. and C. ZOLLA
1982
Plantas tóxicas de México. Instituto Mexicano del Seguro Social. 114-5pp.
BAÑUELOS-FLORES, N. and PI. SALIDO-ARAIZ
1998
El uso medicinal de las plantas en las regiones Mayo y Guarijio de Sonora. Act Med Son. 1-6pp.
CLARKE, JH.
2000
Hura crepitans. A dictionary of practical. Materia Médica. Mei-T.
CORDERO, J. and D. H. BOSHIER, editors
2003
Árboles de Centroamérica. Un manual para extensionistas. Oxford Forestry Institute (OFI, Oxford University, Oxford, UK) and Centro Agronómico Tropical de Investigación y Enseñanza (CATIE, Turrialba, Costa Rica).
FLORES J. S, CANTO-Aviles GCO, and FLORES-Serrano A. G.
2001
Plantas de la flora yucatense que provocan alguna toxicidad en el humano. Rev Biomed 2001; 12: 86-96.
GERRY, Eloise
1951
Hura Wood or Possumwood "Rakuda" Hura crepitans L., Hura polyandra Baill. Family: Ruphorbiacae. Forest Products Laboratory, U.S. Dept of Agriculture. Pdf.
LOPEZ Bazan, Tito Fabricio
2002
Envenenamiento con semillas de Hura polyandra (haba de San Ignacio). Revista Mexicana de Medicina de Urgencias, Vol. 1, No. 2, April-June 2002.
MONTOYA-CABRERA, MA
2002
Toxicología clínica: plantas venenosas. Méndez Editores. 342 pages
PARKER, Tracey
2008
Trees of Guatemala. The Tree Press. 1033 pages.
PENNINGTON, T. D. and Jose SARUKHAN
1968
Árboles tropicales de México. Instituto Nacional de Investigaciones Forestales, México, D.F.
RUIZ Munguia, Rodolfo, MILLARES, Richard, GURLEY, N. F. and W. R. LLOYD
1949
Fixed oils of Mexico. III. Habilla de San Ignacio (Hura polyandra Baill). JOURNAL OF THE AMERICAN OIL CHEMISTS' SOCIETY, Volume 26, Number 8, 432.
ROMÁN, l., MORA, A., and A. GALLEGOS
2011
Árboles tropicales de uso multiple en la costa de Jalisco, México. In: Bosques y árboles del tropico Mexican: estructura, crecimiento y usos. 107 pages.
SANDOVAL, E.
2005
Técnicas aplicadas al studio de la anatomía vegetal. Cuadernos del Instituto de Biología 38. UNAM. México, D.F. 281 pages.
SILVA, J.A
2008
Fichas técnicas sobre características tecnológicas y usos de maderas comercializadas en México. Coordinación, Eduacación y Desarrollo Tecnológico. Conafor. 62 pages.
STANDLEY, Paul C. and Julian A. STEYERMARK
1949
Flora of Guatemala. Part V. Fieldiana: Botany, Vol. 24, Part VI. Chicago Natural History Museum.
WEBSTER, Grady L.
1994
Synopsis of the genera and suprageneric taxa of Euphorbiaceae. Annals of the Missouri Botanical Garden, 81 (1):31-144.
ZAVALA, D.
2000
Secado de maderas en estufas convencionales. Madera y Bosques 6(1): 41-54.
We have a basic information about Hura polyandra trees on our Mayan ethnobotany web site.
First posted April 2014 after finding many more Hura polyandra trees along another river, this time in the dry Zacapa area of Guatemala.