Books and articles about parrots and macaws of the Mayan areas
Explore the world of the macaws and parrots of the Neotropical seasonal rain forests of El Peten, Alta Verapaz, Izabal, Belize, Honduras, Chiapas, Quintana Roo, Campeche and other parts of Mesoamerica influenced by Mayan civilization.

Macaws and parrots are found in murals, vase paintings, monumental stone sculpture and architectural facades. A good place to see macaws in Mayan art is at Copan Ruinas, Honduras. Plus you can photograph scores of macaws flying around the Maya ruins of Copan.
And, there is a macaw nature preserve just 10 minutes away, Macaw Mountain. We recommend visiting Macaw Mountain. We have written an article in REVUE magazine about macaws and mention Macaw Mountain Bird Park & Nature Reserve.



There is also a macaw research station on the Rio San Pedro Martyr, El Peten. Just realize that macaws come here only during certain seasons related to the macaw life cycle. So communicate with Las Guacamayas in advance. But at Copan Ruinas in Honduras and at Macaw Mountain Bird Park & Nature Reserve a few minutes away., the macaws are there 24 hours a day all year.
Check out our Report About Guacamayas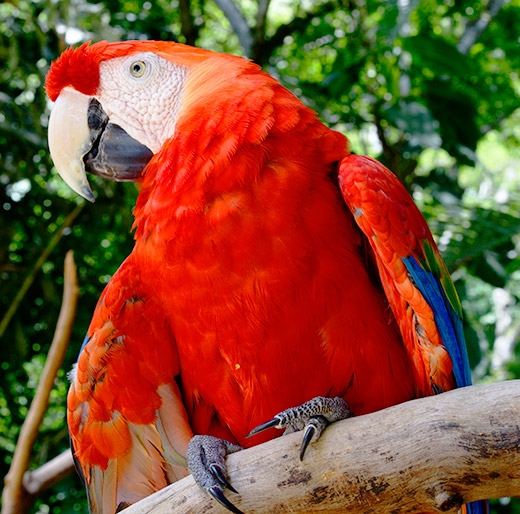 Image of a scarlet macaw, Ara macao, photographed at Copán, Honduras with a Nikon D800E


Bibliography: Monographs on parrots and macaws of Mexico, Belize, Guatemala, Honduras, El Salvador, and Costa Rica
FORSHAW, JOSEPH MICHAEL and FRANK KNIGHT
2010
Parrots of the World. Princeton Field Guides. 336 pages.
JUNIPER, TONY and MIKE PARR
1998
Parrots: a guide to parrots of the world. Yale University Press. 584 pages.

Pertinent articles or books on birds in general (of Mesoamerica) that show parrots and macaws

BEAVERS, R. A.
1992
The Birds of Tikal An Annotated Checklist for Tikal National Park and Peten, Guatemala. TAMU Press. 168 pages.
EDWARDS, Ernest Preston
1998
A Field Guide to the Birds of Mexico and Adjacent Areas Belize, Guatemala, and El Salvador. 3rd edition. University of Texas Press. 285 pages.
HOWELL, Steve and Sophie WEBB
1995
A Guide to the Birds of Mexico and Northern Central America. Oxfod University Press. 1010 pages.
JONES, H. Lee.
2004
Birds of Belize. University of Texas Press. 317 pages.
KAUFMANN, Terrence and William NORMAN
1984
An Outline of Proto-Cholan Phonology, Morphology, and Vocabulary. In Phoneticism in Mayan Hieroglyphic Writing, edited by Lyle Campbell and John S. Justeson. 77-167 pages.
PETERSON, Roger Tory and Edward L. CHALIF
1999
A Field Guide to Mexican Birds: Mexico, Guatemala, Belize, El Salvador. Peterson Field Guide. Houghton Mifflin Harcourt. 320 pages.
Sociedad Antioqueña de Ornitología
2002
Aves del Valle de Aburra. Sociedad Antioqueña de Ornitología - SAO. Segunda Edición. Medellín, Colombia. 136p.
VAN PERLO, Ber
2006
Birds of Mexico and Central America. Princeton University Press. 336 pages.

Theses or dissertations on parrots and macaws of Mesoamerica or related iconography or archaeology

BJORK, Robin D.
2004
Delineating Pattern and Process in Tropical Lowlands: Mealy Parrot Migration Dynamics as a Guide for Regional Conservation Planning. PhD. Oregon State University, 226 pages.
KNOWLES, Susan
1984
A Descriptive Grammar of Chontal Maya (San Carlos dialect). PhD. Dissertation, Tulane University.

First posted in early June 2014