Bibliography on Fuchsia arborescens a pre-Columbian Mesoamerica flower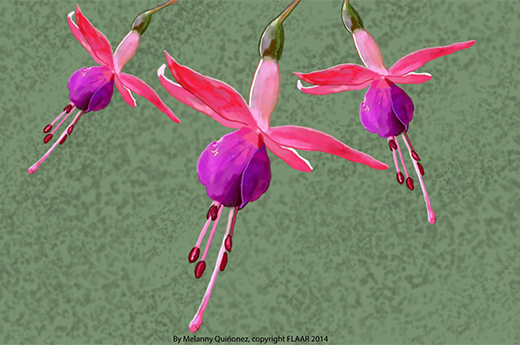 ARROYO, M. K. and P. H. RAVEN
1975
The evolution of subdioecy in morphologically gynodioecious species of Fuchsia sect. Encliandra (Onagraceae). Evolution 29: 500-511.
ANONIMO
1998
La diversidad biológica de México: Estudio de país. Comisión Nacional para el Conocimiento y Uso de la Biodiversidad (Conabio). 341 page.
BARCENAS, I. A.
1977
La vegetación herbácea de Coatlán del Río, Morelos. Tesis de licenciatura, Facultad de Ciencias, Universidad Nacional Autónoma de México. México, D. F. 150 p.
BONILLA-Barbosa, J. R. and J. L. VILLASEÑOR
2003
Catálogo de la flora del estado de Morelos. Universidad Autónoma del Estado de Morelos. Centro de Investigaciones Biológicas, Cuernavaca. 108 page.
BREEDLOVE, D. E., BERRY, P. E. and P. H. RAVEN
1982
The Mexican and Central American species of Fuchsia (Onagraceae) except for Sect. Encliandra. Annals of the Missouri Botanical Garden 69:209-233.
CHIMAL, A. and V. CORONA
2003
Arbustos mexicanos con potencial ornamental. In Plantas nativas de México con potencial ornamental, análisis y perspectivas, J. M. Mejía y A. Espinosa (comps.). Universidad Autónoma de Chapingo. México, D.F. 31-51 pages.
GODLEY, E. J.
1963
Breeding systems in New Zealand plants 2. Genetics of the sex forms in Fuchsia procumbent. New Zeal J Bot 1:48-52.
GODLEY, E. J. and P. E. BERRY
1995
The biology and systematics of Fuchsia in the South Pacific. Ann Mo Bot Gard 82: 473-516.
GOULDING, E.
1995
Fuchsias-the complete guide. Timber Press. Portland, USA.
MIGUEL-Vásquez, Mónica Isabel and Rosa CERROS-Tlatilpa
2013
Onagraceae de Morelos, México. Revista Mexicana de Biodiversidad. 84: 1309-1315
ORCHARD Nyrsery and Florist, Inc
ND
Growing Fuchsias. Orchad Gro-Sheet # 14. 4010 Mt. Diablo Blvd. Lafayette, CA.

[email protected]

Posted July, 2014.