Introductory Bibliography on Maya House Architecture Including books on palm trees for thatch roofs
The following bibliography is on palm trees of the Maya area in general and a bit on palm thatched roofs. This is an introductory bibliography, meaning that it is intended to get you started. If you need a bibliography for a dissertation you can find that by spending several weeks in a major library and Googling pertinent keywords.
We will have separate bibliographies on the grass(es) used as thatch as time allows (sadly we have no funding for a formal project, so we do our best to do the bibliographic research at night and on weekends (and when I am in airports around the world as I fly to lecture or attend digital technology expos).
We study primarily thatch roof houses in Alta Verapaz, Izabal, and El Peten areas of Guatemala. Plus in the 1960's through 1990's we worked in Belize, Campeche, Yucatan, Quintana Roo, Chiapas, etc. But most of the bibliography here is for Yucatan and El Peten since I am not yet aware of systematic studies of palm and grass thatched houses in Alta Verapaz, Izabal, or Belize in recent years. But if readers suggest articles for Belize, Alta Verapaz, Izabal, Honduras, El Salvador, etc, we will be glad to add these references.
Also needed is more study of roofs of Highland Mayan areas, a tough study today since most roofs there are of tin sheets or ceramic roof tiles.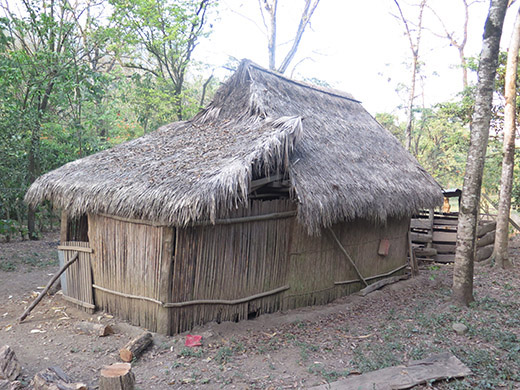 ABRAMS, Elliot
1994
How the Maya Built Their World: Energetics and Ancient Architecture. University of Texas Press, Austin.
ANONYMOUS
n.d.
The Maya. A Resource to Accompany, History Alive! The Ancient World. Pages 19.
ANONYMOUS
n.d.
Roaring Creek: Life along an ancient Maya Valley. Word Archaeology. Pages 7.
ARELLANO, L. G., CARRANCO, M. E., PEREZ-Gil, F., MONTIEL, A., and Javier CABALLERO
1992
Sabal mexicana Mart. y Sabal japa Wright. ex Becc. (Palmaceae). Recursos potenciales para la Alimentación Animal. Revista Cubana de Ciencia Agrícola 26:317-322.
BAILEY, L. H.
1944
Revision of the American palmettos. Gent. Herb. 6(7): 367-459.
BALICK, M. J. (Ed.)
1988
The Palm-Tree of Life: Biology, Utilization and Conservation.
Advanced in Economic Botany, vol. 6. New York Botanical Garden, New York,
282 pages.
BALICK, M. J. and H. S. BECK
1990
Useful Palms of the World: A Synoptic Bibliography.
Columbia University Press, New York, 724 pp.
CABALLERO, Javier
1992
The Maya Homegardens of the Yucatan Peninsula: Past, Present and Future. Etnoecologica 1, 35–54.
CABALLERO, Javier
1993
El caso del uso y manejo de la palma de guano (Sabal spp.) entre los mayas de Yucatán. En: Leff, E.y J. Carabias (eds). Cultura y Manejo Sustentable de los Recursos Naturales. Mexico. CII-UNAM y Grupo Editorial Miguel Angel Porrua, Mexico. 203-248 pages.
CABALLERO, Javier
1994
Use and Management of Sabal Palms among the Maya of Yucatan. Ph.D., University of California, Berkeley, USA, 186 pages.
CABALLERO Nieto, Javier
2000
Sostenibilidad del uso y manejo tradicional de la palma de guano (Sabal spp, Arecaceae) en el área maya de Yucatán. Universidad Nacional Autónoma de México. Instituto de Biología. Informe final SNIB-CONABIO proyecto No. M111. México D. F.
CABALLERO, Javier, PULIDO, María Teresa and Andrea MARTINEZ-Ballesté
2004
El uso de la palma de guano (Sabal spp.) en la industria turística de Quintana Roo, México. Capitulo 19, pp. 359-379.

Available on-line:
www.uv.mx/ethnobotany/caballero_files/Caballero%20etal2004%20CIFOR.pdf
Another source says pages 365-386 but perhaps that is another edition. Here is that listing:
El Uso de la Palma de Guano (Sabal yapa Wright ex Becc) en la Industria Turı´stica de Quintana Roo, Mexico. In: Alexiades, M. N. and Shanley, P. (Eds.), Productos Forestales, Medios de Subsistencia y Conservacio´ n. Estudios de Caso Sobre Sistemas de Manejo de Productos Forestales No Maderables, CIFOR, Desa Putera, pp. 365–386.


CONAP
2002
Plan Maestro 2002-2006, Parque Nacional Sipacate-Naranjo. ONCA, FONACON.


CHASE, Arlen and Diane Z. Chase
2014
Anciente Maya Houses, Households, and Residential Groups at Caracol, Belize. Research Reports in Belizean Archaeology, vol. 11. Institute of Archaeology. Pages 3-17.


DAVIDSON, James
2009
Casas de Paja, Maya House Arquitectures Traditions & Transformations. Dissertation for the degree of Doctor of Philosophy. School of Architecture, University of Queensland. 292 pages.

This is a dissertation that surely made his professors happy: everything is cited. Plus he did a fair amount of field work. This I was surprised to find errors in almost every one of this lists of what plants were used for thatch (other than the obvious corozo or guana palm). Here are three errors we noticed:

The Pokomchi' and Achi' used a local palm (aj) for thatch while the Midlands Kekchi' (the only house of its type surveyed) uses maize leaf and sugarcane stalk, (Davidson 2009: 129).
I am not a linguist, but I would want to be sure that "aj" really means palm. Ac or Ak means grass (probably slightly different kind depending on what eco-system you are in). And for the Kekchi' (sic) maize leaves, yes, but sugarcane stalk unlikely. There are so many "cana" plants that are visually similar to sugarcane to a non-botanist. But if you work in the K'ekchi' areas for years you soon learn that most of the "cane" used for thatch has nothing to do with sugar cane (other than that all cane plants look similar if you are not a botanist). And the same word is used for all plants. So this mistake is understandable. However sugar cane leaves (not stalks) are indeed used for thatch (even though only in modern times since sugar cane is obviously not pre-Columbian. And perhaps sugar cane stalks could be used under the leaves as the frame to hold the leaves (I would not rule this out, but I would suspect they would use a plant which lasted more years than cane stalk). But I am trying to find a way to make this statement in the dissertation not totally incorrect.

Stalks are indeed used, but mostly for walls, not roofs. Stalks the circumference of your thumb are the main wall type (other than roughly cut wooden boards, or modern concrete block). I would not be surprised if you could find a Q'eqchi' (or K'ekchi') house with wall stalks of sugar cane. But I estimate most of the wall stalks are from trees not grasses.

Furthermore, the Lowlands Kekchi' house relied on palm (sacate) leaf for weather protection, (Davidson 2009: 130). Sorry, sacate is zacate, and is grass, not palm. When a roof is weathered, it may look like grass or palm, depending on your expectation. Plus, many many other plants, used for roofs by Q'eqchi' Mayan people, are totally missing from his list.


GAMA, V
2001
Demanda y Disponibilidad de la Palma de Guano (Sabal spp., Arecaceae) En Tres Comunidades de la Peninsula de Yucatan. B.Sc. ; thesis, Universidad Nacional Autonoma de México, México, 134 pages.
HENDERSON, Andrew, GALEANO, Gloria and Rodrigo BERNAL
1995
Field Guide to the Palms of the Americas. Princeton University, Princeton, NJ.
HENDON, Julia
n.d.
In the House: Maya Nobility and their Figurine-Whistles. Volume 45, Number 3 Expedition. Pages 6.
HODEL, D. R.
1992
Chamaedorea Palms: The Species and Their Cultivation. Allen Press, Lawrence, Kansas, 338 pp.
HOUSTON, Stephen
1998
Function and Meaning in Classic Maya Architecture. Dumbarton Oaks Research Library and Collection Washington, D.C. Harvard University. Pages 37.
LUNDELL, Cyrus L.
1938
Plants probably utilized by the Old Empire Maya of Peten and adjacent Lowlands. Papers of the Michigan Academy of Sciences, Arts, and Letters; vol. 24, pp: 37-56. University of Michigan, Ann Arbor.
LUNDELL, Cyrus L.
1966
The Genus parathesis of the Myrsinaceae. Texas research foundation, Renner, Texas. Missouri Botanical Garden Library.
MARTINEZ-Ballesté, Andrea, CABALLERO, Javier, GAMA, S. Flores and Carlos MARTORELL
2001
Sustainability of the traditional management of xa'an palms (Sabal spp., Arecaceae) by the lowland Maya of Yucatan, México. Proceedings of the VII International Congress of Ethnobiology. University of Georgia Press, Athens.
MARTINEZ-Ballesté, Andrea
2006
Dinámica Poblacional y Sostenibilidad de las Formas Tradicionales de Manejo de la Palma de Guano (Sabal spp. Arecaceae) en el Area Maya de la Penı ́nsula de Yucata ́n. Ph.D., Universidad Nacional Auto ́noma de Me ́xico, Me ́xico D.F, 94 pp.
MARTINEZ-Ballesté, Andrea, MARTORELL, Carlos and Javier CABALLERO
2006
Cultural or Ecological Sustainability? The Effect of Cultural Change on Sabal Palm Management Among the Lowland Maya of Mexico. Ecology and Society 11 (2): 27.
MARTINEZ-Ballesté, Andrea, Martorell, Carlos and J. CABALLERO Nieto
2008
The effect of Maya traditional harvesting on the leaf production, and demographic parameters of Sabal palm in the Yucatan Peninsula, Mexico. Forest Ecology and Management. Elsevier.

They list, among others, xa'an palm (Sabal yapa and Sabal mexicana)
McKILLOP, H.
1996
Prehistoric Maya use of native Palms: Archaeobotanical and Ethnobotanical Evidence. In The Managed Mosaic: Ancient Maya Agriculture and Resource Use. Edited by S. L. Fedick, pp. 278-294. University of Utah Press, Salt Lake City.

Helpful, but does not get into palm thatch roofing very much, and since junco is technically "not a palm, and not a tree either" the main "palm thatch" of the Q'eqchi' area is missing from her article (which is based on Belize, not on Alta Verapaz, though there are plenty of Q'eqchi' in Belize. Because there is plenty of corozo there thye Q'eqchi' probably don't use much junco, and it may be that junco is not common in Belize anyway.
MOYA Rubio, Victor Jose
1988
La vivienda indígena de México y el mundo. UNAM. México.
NATIONS, James D.
2006
The Maya Tropical Forest: People, Parks and Ancient Cities. University of Texas Press. 368 pages.

James Nations (2006) suggests that guano palm is Sabal mauritiiformis and/or Sabal morrisiana. Lacandon Maya would be sha'an.
ORTIZ Paiz, Henry Stuardo
1999
Distribucion y usos de la palma de escoba (Sabal guatemalensis Beccari) en el Municipop de Guastatoya, El Progreso. Thesis, USAC. 54 pages.
PULIDO Silva, Maria Teresa and J. CABALLERO Nieto
2008
La palma de guano en la Peninsula de Yucatan. Uso y manejo de recursos naturales. In Riqueza Biologica del Estado de Quintana Roo: un Analisis para su Conservacion., pp. 157-160.
QUERO, Hermilo J..
1991
Sabal gretheriae, A new species of palms from the Yucatan Peninsula, México. Principes., Vol. 35, pages 219-224
QUERO, Hermilo J..
1992
Las Palmas Silvestres de la Península de Yucatán. Instituto de Biología, Universidad Nacional Autonoma de México, Publicaciones especiales 10, México, 63 pages.
REDFIELD, Robert and Alfonso VILLA Rojas
1934
Chan Kom, a Maya Village. Carnegie Inst. Washington, Publ. No. 448.
THOMPSON, J. Eric S.
1930
Ethnology of the Mayas of Southern and Central British Honduras. Field Museum of Natural Histor, Anthropological Series, Vol. XVII, No. 2, Pub. 274.

Plate X, page 91, shows a complete diagram of the pole structure of a Maya house. But there is no information on the names of the different parts of this house. Nonetheless, it is a good drawing.

Plate IX shows photographs of two sides of a finished house.

Plate I shows two photographs from a high point looking down on the whole village, showing about 20+ thatch roofed houses. Very remarkable view, probably unique for showing so many.
WILSON, Michael Robert
1972
A Highland Maya People and their Habitat: The Natural History, Demography and Economy of the K'ekchi'. PhD dissertation. Department of Geography and the Graduate School of the University of Oregon.
ZONA, S.
1990
A monograph of Sabal (Araceae: Coryphoideae). Aliso 12(4): 583-666.
A few sample web sites
with snapshots of Maya houses with palm thatch roofs.
www.csms.ca/hut.htm
6 nice snapshots of Maya houses: Peten and Yucatan, but all palm-thatched; no grass.
www.csms.ca/index.htm is The Canadian Society for Mesoamerican Studies
contact is Dr H. Stanley Loten, Secretary and Treasureer: sloten@sympatico.ca, Dr Louise I. Paradis: President; Dr James C. Langley: Vice President
www.csupomona.edu/~lugo/MAYA/index-2.html
A nice drawing of a structure of a Maya house, inside and outside, with Yucatan Maya words for each part.
Most recently updated September 22, 2015.
Articles and additional photographs added October 27, 2014.
First posted June 4, 2014.