Volunteer opportunities in Mayan iconography, ethno-botany with the FLAAR Digital Imaging Center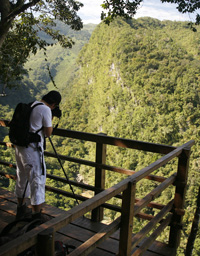 Taking pictures at Cemuc Champey
The FLAAR Digital Imaging Center in Guatemala City offers volunteer opportunities to students who are seriously interested in the iconography, photography of archaeology, ethnobotany, ethnozoology and/or digital imaging technology. The program is also suitable for people who work at a museum or in the field of digital imaging and who want to expand their horizons. During the course of the voluntary service it is possible to gain an insight into different aspects of field work, and to learn more about digital technology and its role in archaeology.
It is possible to work in only one of the areas, or to divide the time equally between the two. It is furthermore a good opportunity to improve ones Spanish skills. It is not imperative, but certainly helpful, that you speak Spanish, since most of the staff and the directors of both institutions speak English, and there are also people who speak German. But there are some very good language schools in the nearby town of Antigua, and the city itself. It is not important how much time a volunteer wants to spend in Guatemala, but he or she should have a specific skill from which the projects can receive assistance. Under certain circumstances a payment to the project will be expected to cover training costs.
Museo Popol Vuh
The Museo Popol Vuh
In past years our offices were adjacent to the Museo Popol Vuh. But since 12 people now work in the FLAAR research center, we have moved to our own facilities, where we can have our own ethnobotany growing area and our own butterfly raising area
Part of the museum includes an extensive library on loan from Nicholas Hellmuth, in which the volunteer is free to roam, to read up on the latest in archaeology or expand his or her knowledge in fields of personal interest.
FLAAR Digital Imaging Center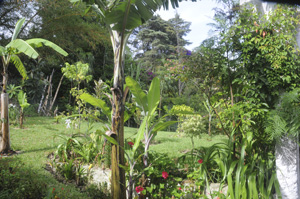 Garden at FLAAR office
The succes of FLAAR is based on photographically oriented research and public education in the fields of art history, architectural history, archaeology, anthropology and ethnohistory with emphasis on pre-Columbian Mesoamerica. Nicholas Hellmuth, the director, offers training courses in digital photography, panorama photography, digital imaging and much more, which might also be of interest to the volunteer.
FLAAR is also involved in market research in the field of digital imaging, and shares its experience with interested consumers via reports and reviews. They have an extensive range of digital photography and large format printing equipment in the office in Guatemala, and a volunteer will get a training in some of it, for example in projects of rollout photography of archaeological vases. The volunteer will have the opportunity to learn a lot about the importance of digital technology and how to apply it professionally within his or her field of study. The experience gained while at the Digital Imaging Center will be a good addition to ones CV and noticed positively by potential employers.
It would be an advantage if the volunteer could offer some kind of skill in the field of digital imaging to contribute to the efforts FLAAR undertakes in its research and projects. Knowledge of German, Russian or other European languages would be an additional plus. We are particularly interested in volunteers for 3D scanning, 3D rendering, 3D architectural visualization, animation, ethno-botany, ethno-zoology, and the study of minerals used by the Maya, especially for coloring materials for sacred and funerary usage.
New page format and page updated July 3, 2009.