If you want to produce nice wide format images, select a quality wide format media to print on.
This page introduces photographic Encad's own inks and media for ENCAD and other wide-format printers from Rexam Graphics (now Rexam Image Products), one of the top media providers world wide. Wide format printers are capable of producing colorful results but the quality of your print depends as much on the media as on what wide format printer you are using.
It is worth faxing or telephoning Rexam Graphics for their sample booklet of wide format media. Rexam Graphics makes media for Encad, Hewlett-Packard, ColorSpan, Raster Graphics, Iris and other wide format printers. Rexam Graphics is generally considered the largest manufacturer and/or seller of ink jet media in the world.
Wide format media is available from Rexam Graphics for banners, as photorealistic paper, display films, pressure-sensitive media, textiles (canvus), coated matte paper (economical presentation paper), and image transfer media.
The display films are available in backprint film, mate, clear film, clear cling film, and white glossy polyester. For additional information, check out www.rexamimageproducts.com/products.idc
A growing use of wide format printing is to make digital wallpaper. If you have questions, contact Rexam Graphics.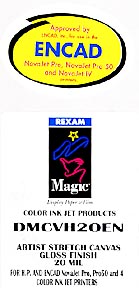 Our test center sought out the four or five leading providers of ink-jet media for review. Where possible we met the product managers at trade shows so we could know the people behind the product.
We visited the Rexam Graphics booth at several trade shows. It makes a difference to deal with a substantial company who has been around, and will stand the test of time.
Rexam Graphics, 1 800-628-8604, outside USA call (770) 980-7120, fax 1 781 681-5055 www.rexamgraphics.com and/or www.rexamimageproducts.com
What can you use your wide format prints for? In addition to banners, posters, enlargements of photographs, and murals you can create backlit signs, trade show displays, and point-of-purchase (POP) advertising.
The places that purchased wide format printers initially were sign shops, print shops, copy centers, and digital photographers. Once the world got out about the potential of these wide format printers, then in-house graphics departments wanted a wide format printer for themselves. You can even do fleet graphics (vehicle graphics such as wrapping buses and delivery vans with a public relations message and large logo). Prepress shops and service bureaus even use wide format printers for comps and proofs
The Rexam media just arrived a week before we moved our test center from Florida to Missouri and so we will post the results subsequently. Presently the Rexam media is together with our Encad wide format printer, en route to Guatemala to our new test-and-product-review center.
New page format posted July 10, 2009
revised June 15, 1998; links added July 1999, edited Oct 22, 1999, updated March 6, 2000
FLAAR has prepared sever reports for free for you to download on Mayan Topics, please acces out Free Reports Catalog so you can download you reports. Also you can Request FREE FLAAR's related topics reports by filling out an Inquiry form.