Having a large-format ink-jet color printer in your own office is a digital delight. But be sure to select the correct ink and proper wide format media. Here are suggestions based on considerable testing.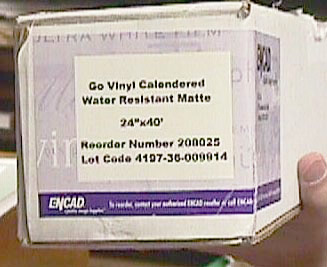 Media for outside, inside, every kind of media is available from ENCAD. Check out their inventory on their web site.
ENCAD inks are formulated to work directly with ENCAD media, and naturally both work ideally with an ENCAD wide format printer.
Actually a "large format printer" can also print regular sized photographs. The majority of the prints that we produce are actually 11x17 oversize (A3 oversize in Europe and Asia). For this size you should also consider getting an Encad Chroma 24, probably the most economical wide format printer around.
Complete directory of large format color printers is available on a new web site, www.wide-format-printers.org
Additional reviews of large format printers are available by looking at the index of other sites dedicated to advanced digital imaging such as www.cameras-scanners-flaar.org and www.digital-photography.org

Our ENCAD NovaJetPro is powered by an EFI Fiery hardware RIP server from Electronics for Imaging.
Be sure not to confuse a professional quality wide format printer (Encad, Roland, ColorSpan and others) with cheap printers like the Epson 1520 or Epson 3000. Avoid those Epson printers. They require overpriced paper and suck up excessive amounts of expensive ink. These cheap Epson printers are not made for production (this means they are not intended to print day and night). We found the Epson printers were not good for any of the tasks that we assigned to them. Several other professors at thesame college were also dissatisfied with their letter size Epson printers; both of us independently decided it as better to use a laser printer when we needed more than one copy of anything in color).
The Encad is a real workhorse. You can leave the Encad to print on its own (the ink reservoir lasted for seven months use!). With the Epson 1520 we had to run to the store every week and buy costly ink, and the printer ruined every print when it decided to stop and demand more ink.
Even though you may print lots of posters that are only 24" high, it helps tremendously to have a printer that can also print a full 36" when you need that extra size. Encad printers are also available in larger sizes in case you need to print mural-sized banners.
Coming off the printer at the left is an impressive photo quality print of monumental Maya architecture of Calakmul, Campeche, Mexico. Since I am a photographer I want to be sure that my prints look nice. The print at the left was taken with an 8x10 studio camera in a remote area of Mexico. Considering that it cost a fortune to take this photograph, it would be a shame to print it on some lind of low-bid printer. Everyone who saw the prints resulting from the Encad large format printer said the print looked fabulous, and this was only a 300 dpi printer. Now you can get 600 dpi printers from Encad.
New page format posted November 17, 2009
page updated April 6, 1999; links added July 14, 1999; more links added March 5, 2000