FLAAR has recently done a direct digital rollout of the longest Mayan hieroglyphic inscription yet found on a Chama vase.
Due to the length of the resulting rollout we had to find a printer capable of printing this. GCC kindly provided a printer. The GCC is the most economical of the several brands of black-and-white laser printer which can handle paper sizes up to 35.5 inches. This particular image is about 22 to 25 inches long (by about 13 inches tall). As you can see comparing the size of the page with Andrea, this is a rather good sized digital enlargement (actually it is possible to enlarge this rollout several yards long using a wide-format inkjet printer).
This page size is large enough to show the actual pot in the upper left and then the rollout across the bottom. This vase has three rows of glyphs, the only such Chama hieroglyphic text yet found. No epigrapher has made a special inventory of the Mayan hieroglyphs on Chama style vases, so we began this task two years ago. We can now report a sizeable archive of rollouts of Chama style pots with hieroglyphs, including a text on an unusual Chama pot which is a low bowl.
We did the digital imaging in Germany of the digital file we had photographed elsewhere the year before. The resulting rollout is another example of the quality (and quantity) of direct digital rollouts being accomplished worldwide by the FLAAR Photo Archive.
As you read this, the FLAAR photo crew is at work with the digital rollout camera somewhere in the world, indeed here are some other Chama area and Nebaj area texts recently photographed.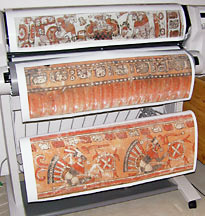 These prints of Mayan hieroglyphs made possible by a Hewlett-Packard DesignJet 2800CP, a 36 inch wide large format color inkjet printer (shown here in the FLAAR office in Essen, Germany).
If every museum had a wide format color inkjet printer it would be so much easier to study art history of pre-Columbian civilizations. These large images are more effective than a slide show. Students can actually get close to the vase rollout and study the hieroglyphs in detail. It is so much easier for epigraphers to decipher the phonetic details if the hieroglyphic inscription is reproduced at a size large enough to see the inscription clearly.
Shown here, HP DesignJet 2800 CP color printer and its EFI Fiery RIP (printer server). The images are 34 inches wide printed on coated paper which is 36 inches wide (comes in rolls 100 feet long). To find out more information about the potential of a large format printer for your museum or school, look at www.large-format-printers.org and www.FineArtGicleePrinters.org.

Maya vase rollout

Printing maya vase rollout
Most Recently Updated: June 2009