The Posada de la Selva is the hotel of choice for adventurous people overnighting within the Tikal National Park. The Jungle Lodge (Posada de la Selva translated into English) offers typical Guatemalan hospitality. This is certainly not a chain hotel but family owned and maintained now in the second generation.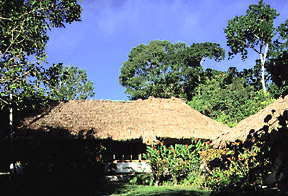 Here is a view of the thatch roofed portion of the hotel. Tourists usually wonder how long these roofs last; actually most tourists can't figure out how the thatch works as waterproofing.
A thatch roof can last from 10 to 20 years, depending on whether it is in the sun, or in the shade, and on how much maintenance it receives. Having slept under many thatch roofs during years of archaeological exploration I can attest that a thatch roof has no leaks. Besides, it is totally biodegradable. At the end, termites eat all the roof poles and natural rot takes care of the remaining thatch. Sure beats destroying the ecology with plastic.
The Ortiz family also operate the largest bus services to and from the international airport (Flores/Santa Elena) to Tikal. To reserve hotel and airport transport (in Peten area); telephone is in Guatemala City 011 (502) 2476-8775, fax 2476-0294, E-mail: [email protected]. www.junglelodgetikal.com
When you visit Tikal be sure to hire a guide. You can get guides at the airport, at the National Park, or in most hotels and travel agencies. The Guatemalan guides know the local flora and fauna and can help you get a fully Guatemalan experience for your vacation.
New page format posted November 19, 2009